Executive management
---
Richard Weston – Chief Executive Officer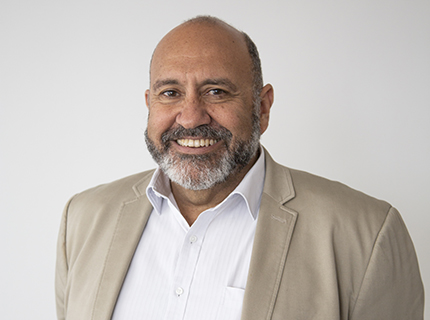 Richard was appointed Chief Executive Officer in September 2019. As a descendant of the Meriam people of the Torres Strait, Richard has worked in Aboriginal and Torres Strait Islander affairs for more than 20 years. Prior to his appointment, Richard held the position of CEO of The Healing Foundation for nine years, overseeing the strategic development of the organisation.
Previously, Richard spent 13 years at Maari Ma Health in far west New South Wales, including nine years as CEO (2000-09). In this period, Maari Ma won five NSW health awards and a national health award.
Through SNAICC, Richard is working towards improving outcomes for Aboriginal and Torres Strait Islander children in out-of-home care, child rights and the early years. This includes SNAICC's role in the Joint Council for the Closing the Gap Refresh.
SNAICC Board of Directors and Council
Corporate Services
---
David Solomon – Corporate Services Manager
Yanee Myint – Finance Support
Sector Development
---
Sue-Anne Hunter – Sector Development Manager
Social Policy and Research
---
John Burton – Social Policy and Research Manager
George Blacklaws – Senior Policy and Research Officer
Adelajda Soltysik – Senior Policy and Research Officer
Andria Mastroianni – Policy and Research Officer
Family Matters
---
Alex Bhathal – Family Matters Campaign Manager
Communications and Engagement
---
Jo Cackett – Acting Communications Coordinator
David Hull – Communications Officer