The second day of the 8th SNAICC National Conference saw more than 1200 child and family representatives gather at the Adelaide Convention Centre, ready to connect and share best practice and strategies in supporting Aboriginal and Torres Strait Islander children and families.
Evoking the power of young people, Dusty Feet Mob from Port Augusta told the story of their connection to Country, culture and language through traditional dance to the music of Archie Roach and Dr G Yunupingu.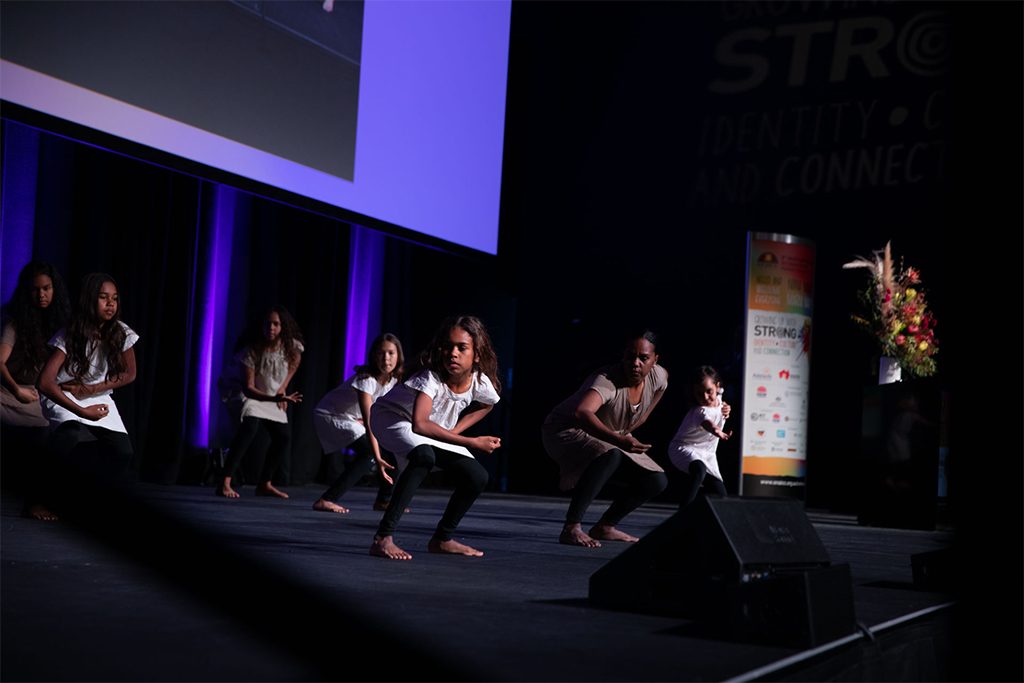 Shelley Ware introduced the plenary panel. A proud Yankunytjatjara and Wirangu woman from Adelaide, Shelley is a well-known media presenter for the AFL and AFLW football news shows, and a teacher in Melbourne.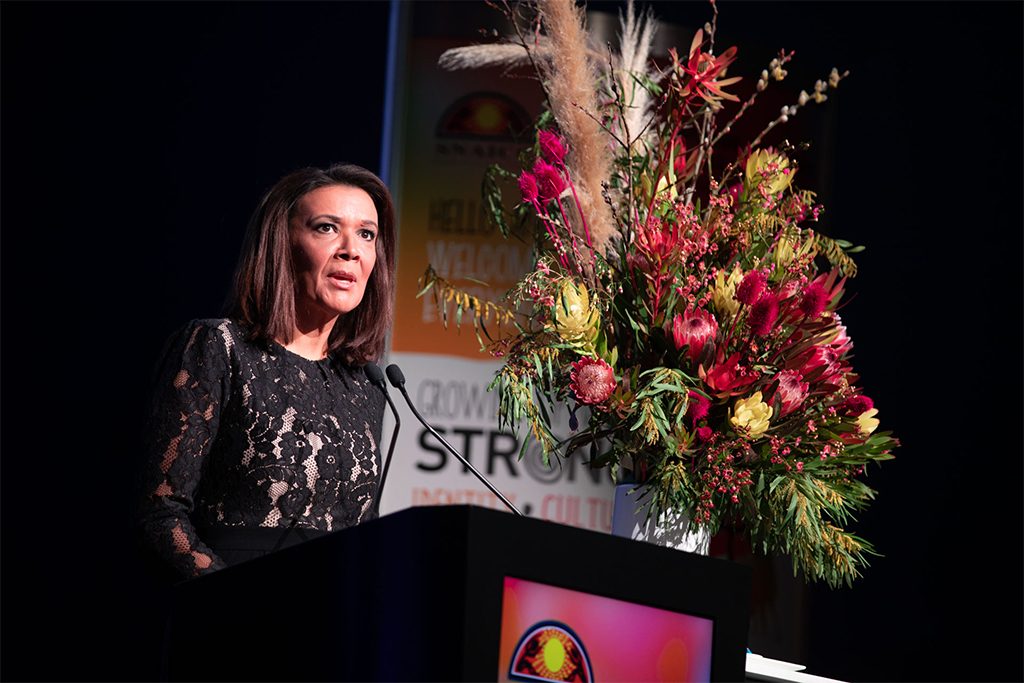 Discussing community initiatives affecting positive change in the Family Matters Campaign, the panel was made up of Family Matters Co-Chairs Natalie Lewis and Richard Weston; June Oscar AO, Aboriginal and Torres Strait Islander Social Justice Commissioner; and Isaiah Dawe, CEO and Founder of ID. Know Yourself.
Natalie Lewis began by introducing the driving factors in launching the campaign.
Decades of past policies that were paternalistic in nature were not working. We needed change."
The Family Matters Report is the go-to resource for understanding the state of wellbeing of our kids."
Natalie also highlighted the impact the campaign has had on affecting change across the country.
Just yesterday, WA Minister Simone McGuirk announced a 10-year strategy to address the over-representation of Aboriginal and Torres Strait Islander children in the child protection system."
– Natalie Lewis, Co-Chair Family Matters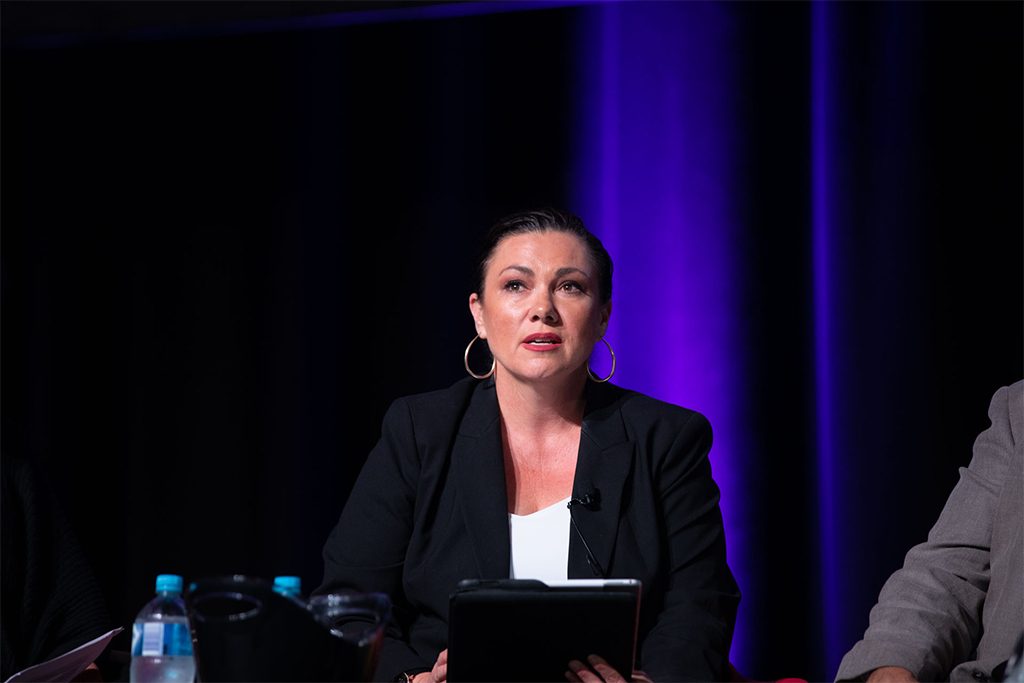 The need to shift towards early intervention and prevention services was emphasised by Commissioner June Oscar.
Just 17% of funding for child protection went to child and family support and prevention services while 83% has been invested in child protection services. This needs to change."
– June Oscar AO, Aboriginal and Torres Strait Islander Social Justice Commissioner
June also spoke of the impact of trauma on contributing to the increase of women in prison.
Richard Weston, former CEO of The Healing Foundation adds, "Healing is critical to the way we deal with and overcome trauma."
"The extent of trauma in our communities means we have a public health crisis on our hands. Connection to culture and a strong identity are the key to resolving this crisis."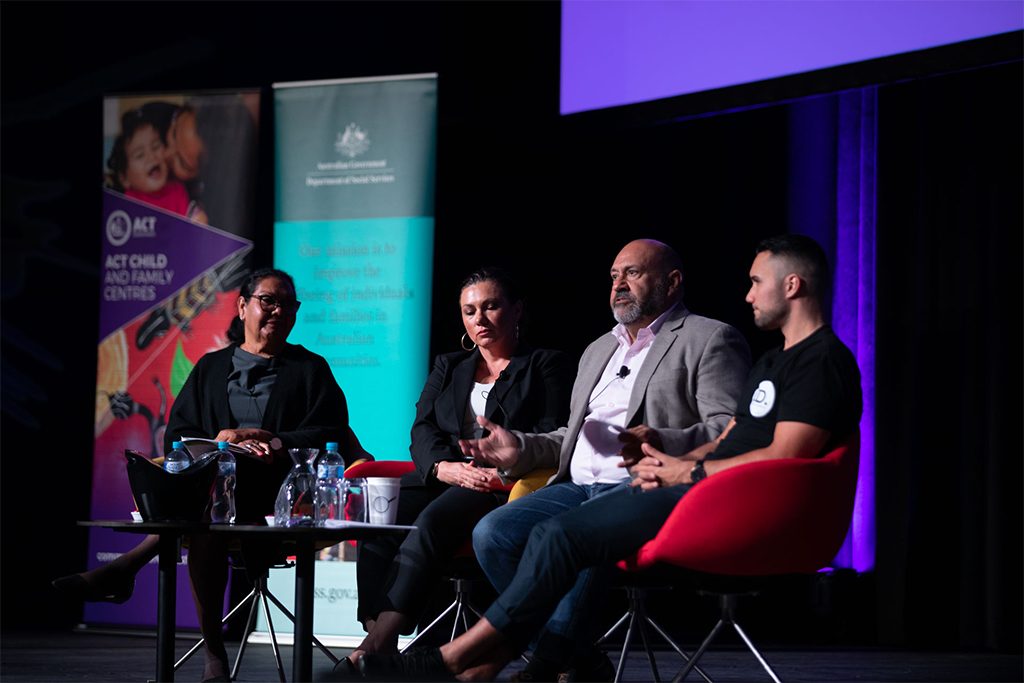 Healing starts when we move from asking 'what is wrong with you to what is right with you?'"
– Richard Weston, Co-Chair Family Matters
Isaiah Dawe, CEO and Founder of ID. Know Yourself connected with the audience with his personal story of his experience in out-of-home care.
From the age of two months I was taken from my identity and family. The system made sure I didn't know who I was."
When I was 16, I went on Facebook and all my family reached out to me."
When I was 16, I got a letter from the Minister saying 'it's been a privilege looking after you' – I thought, 'yeah right!"
– Isaiah Dawe, CEO and Founder of ID. Know Yourself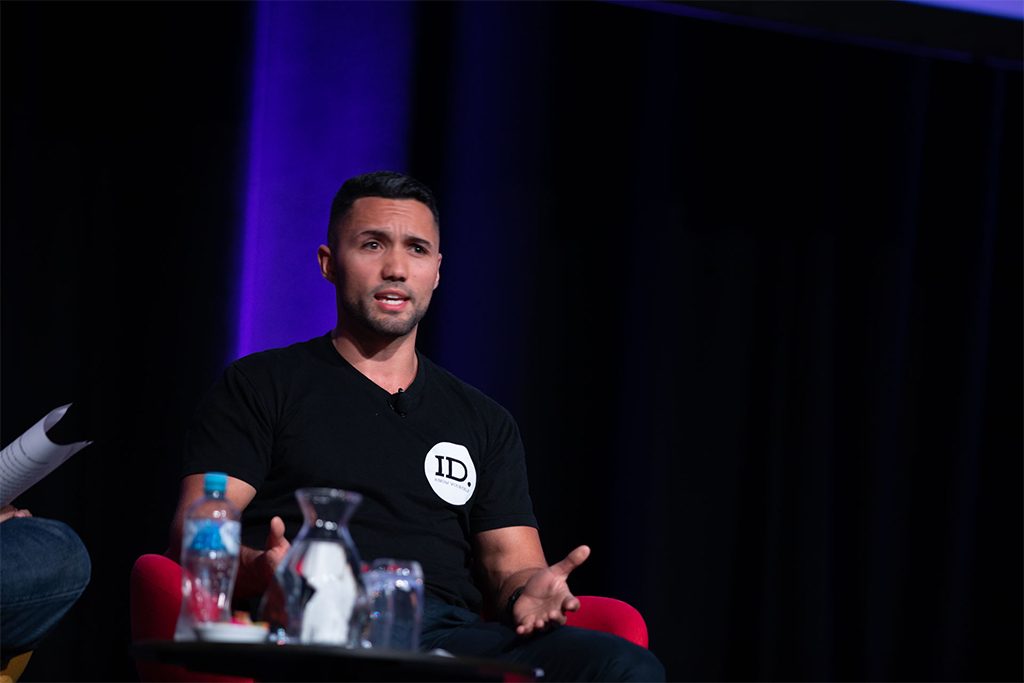 Hearing the voice of a young person who has succeeded despite the system failing him, resonated with the audience.
As Richard reflects, "When I attend this conference, the largest Indigenous gathering in our nation, and sit next to someone like Isaiah Dawe – that gives me hope."
Natalie highlighted the campaign's call for "the creation of a National Aboriginal and Torres Strait Islander Children's Commissioner to achieve the realisation of our children's human rights."
And June endorsed this with her words, "We know that without drastic change, the numbers of our children in out-of-home care will triple by 2040."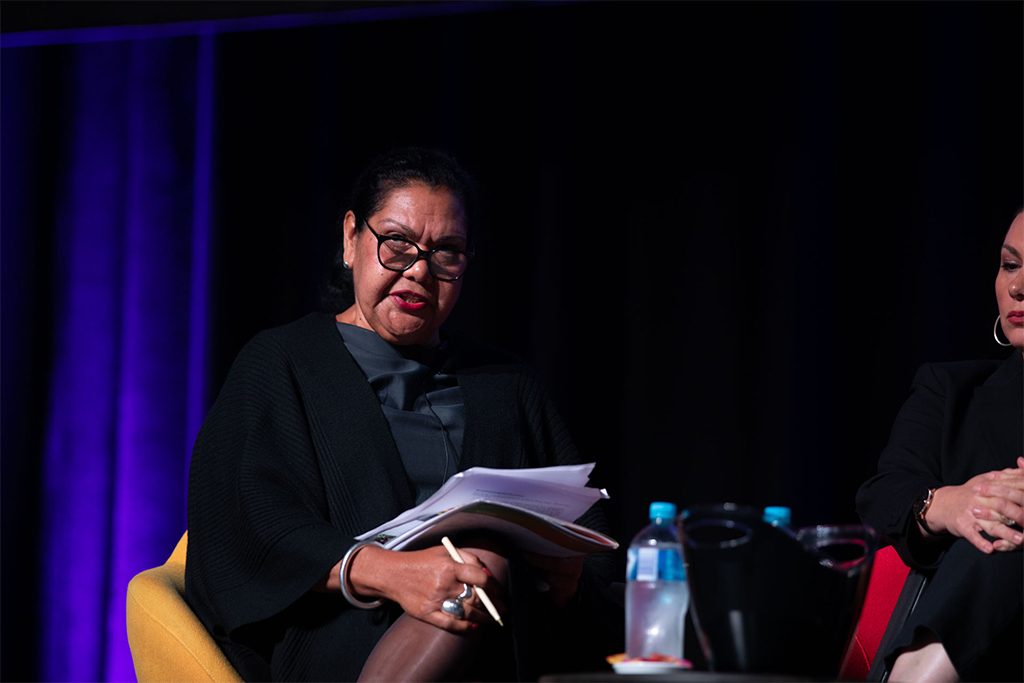 After a powerful opening session, the delegates attended the morning sessions that covered child rights and self-determination, as well as kinship models, holistic healing and resilience.
Keynote speaker and international guest Victoria Tauli-Corpuz, UN Special Rapporteur on the rights of Indigenous peoples, gave a direct message to the people of Australia.
I've visited 10 countries and this is the worst country that I've seen in terms of the over-representation of Aboriginal children in juvenile detention. This is something you have to deal with. You are a rich country. You have no reason to have these kind of statistics."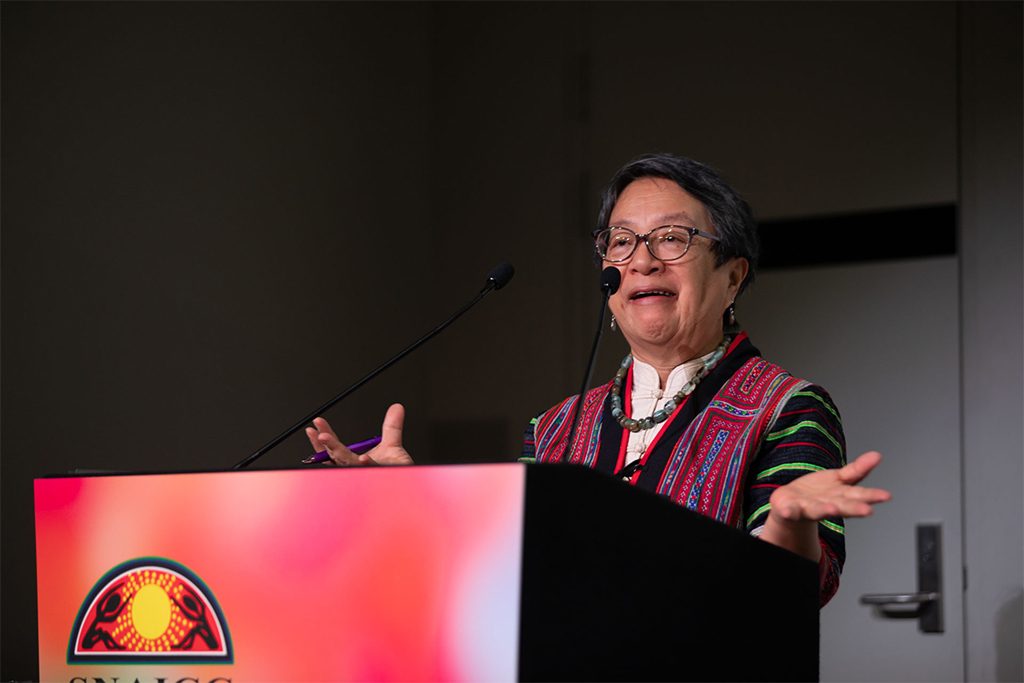 Victoria appealed to the role of Australian citizens to consistently remind the government about their human rights obligations and the recommendations made by the UN. And reminded us that children have collective rights as well as individual rights.
Natalie Lewis from QATSICPP and SNAICC emphasises the path towards self-determination. "There continues to be fierce agreement within Aboriginal communities that funding needs to go to Aboriginal organisations to do the work. And yet money continues to go to mainstream services that do not meet the needs of our kids."
Raylene Harradine from the Victorian Aboriginal Children and Young People's Alliance spoke about the success of the Victorian Aboriginal Commissioner in securing children's rights in the session on self-determination in out-of-home care.
Raylene points out, "The path to self-determination still has roadblocks, but the Wungurilwil Gapgapduir agreement in Victoria seeks to transfer power, control and resources to our organisations. And this is an important step. Our families need help and we have the solutions."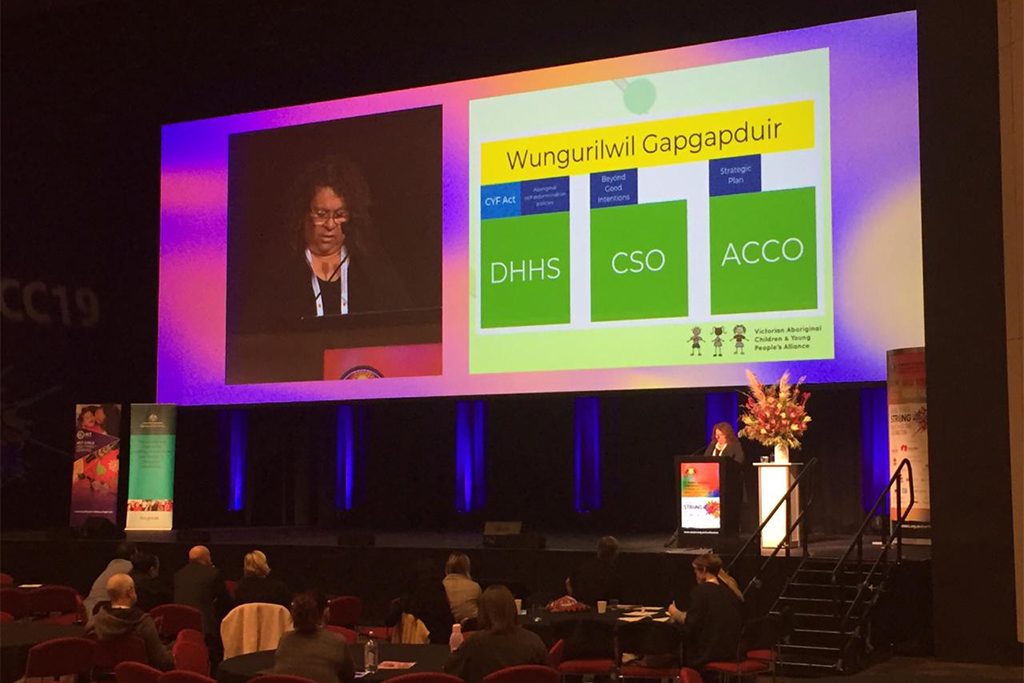 Lisa Curtis of VACCA spoke of their Nugal program that supports children to grow up in community. In a video Muriel Bamblett, CEO of VACCA urges all states and territories to have similar programs, she says, "because it works". An evaluation report will come out shortly.
Tangentyere Council and Territory Families presented on Children Safe, Family Together – Tangentyere Council's innovative new family and kinship care model that will transfer kinship carer recruitment, assessment and support to Aboriginal and Torres Strait Islander community-controlled organisations.
In the session on redressing systematic child protection issues through the law, Koori Conciliation Conferences at the Children's Court of Victoria showed promising outcomes for Aboriginal and Torres Strait Islander children.
Anna Dawson and Zoe DeRe from Public Interest Advocacy Centre and the Aboriginal Legal Service (NSW/ACT) also spoke of their consultations that led to improved priorities in supporting children and families in the court system.
As well as highlighting the need for early support for families, they emphasised the connection between housing and domestic violence.
Zoe DeRe said, "Housing is sending children into care. Women are returning to abusive relationships because housing is important to them."
As well as an emotional session on developing a federal child protection strategy, sessions also focused on trauma-informed approaches to learning.
Drawing on examples from the Far North Queensland, the Apunipima Cape York Health Council works with students to help them address barriers to learning. Through local Aboriginal staff, the council is able to strengthen the education of the local community, such as teachers, to support their children. Mr Ryan Fitch explained that the service focuses on supporting children who have experienced trauma to have their needs met and succeed in the classroom.
The Seedling Group presented on their trauma-informed practice training. Kelleigh Ryan and Nicole Tujague say that teaching people about trauma and strategies to deal with it can have a ripple effect through families and communities.
In the early years space, programs such as Thriving Kindy Kids celebrated their community-controlled approach.
Kirsten Holland said, "When M started with us she couldn't speak. Over the year she changed. Not only could she speak in sentences but she had friendships. And that's what our deadly kindy does. We make sure our schools are ready for our children, not the other way around."
Despite administrative challenges, Jody Currie highlights their kindy program had a large 82% attendance rates in 2018.
The Ninti One program also recognises Aboriginal people are the experts in community needs through their session about remote community experiences in developing partnerships.
Throughout the day delegates joined together to yarn and share stories in between the many sessions on offer.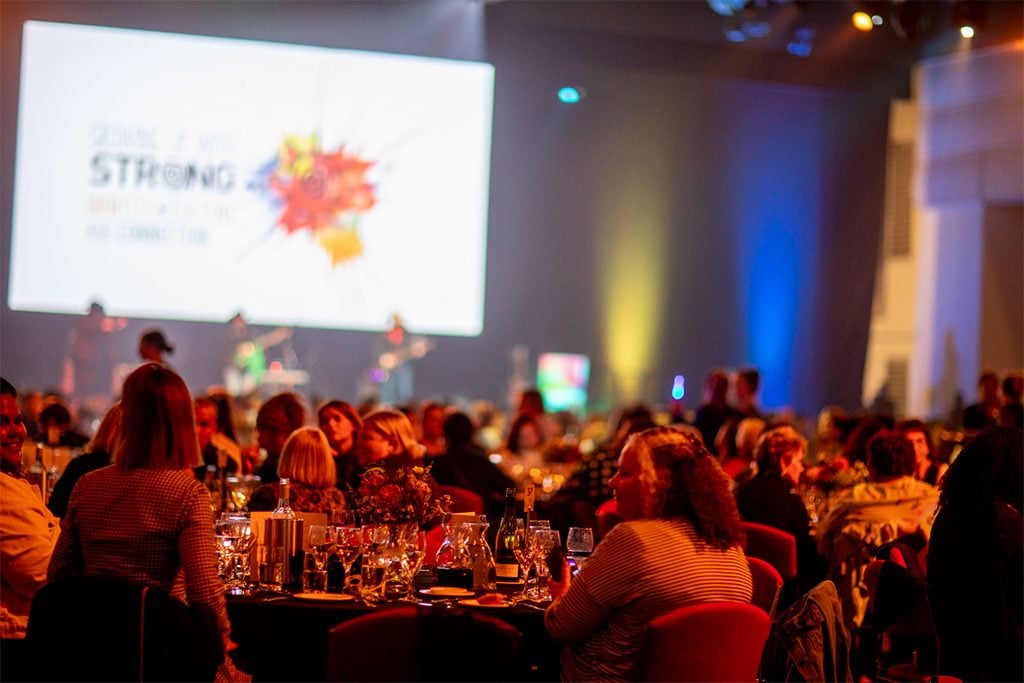 By the evening, they joined together at the conference dinner for a night of food, drink and boot-scooting entertainment with The Twang Bangers – a local country rock band. Delegates and speakers kicked up their heels on the dance floor to celebrate and connect – proud to join fellow representatives from organisations and communities from all over Australia and beyond, that do great work towards ensuring Aboriginal and Torres Strait Islander