On Tuesday morning, over 1200 people gathered at the Adelaide Convention Centre for the opening of the 8th SNAICC National Conference – Growing Up with Strong Identity, Culture, and Connection.
Senior Aboriginal Man Mickey Kumpati Marrutya O'Brien, descendant of the Kaurna (Adelaide Plains) and Narrunga (York Peninsula) peoples, welcomed delegates with a heartfelt story about his father who was taken away from his own mother along with his six brothers and sisters.
He recalls, "I asked my father, what do you think are important things for a child? He told me two things: a home – where your family connections remain, and the second: love, the deeper sense of love for one another. When I think of him looking after his siblings, it was love."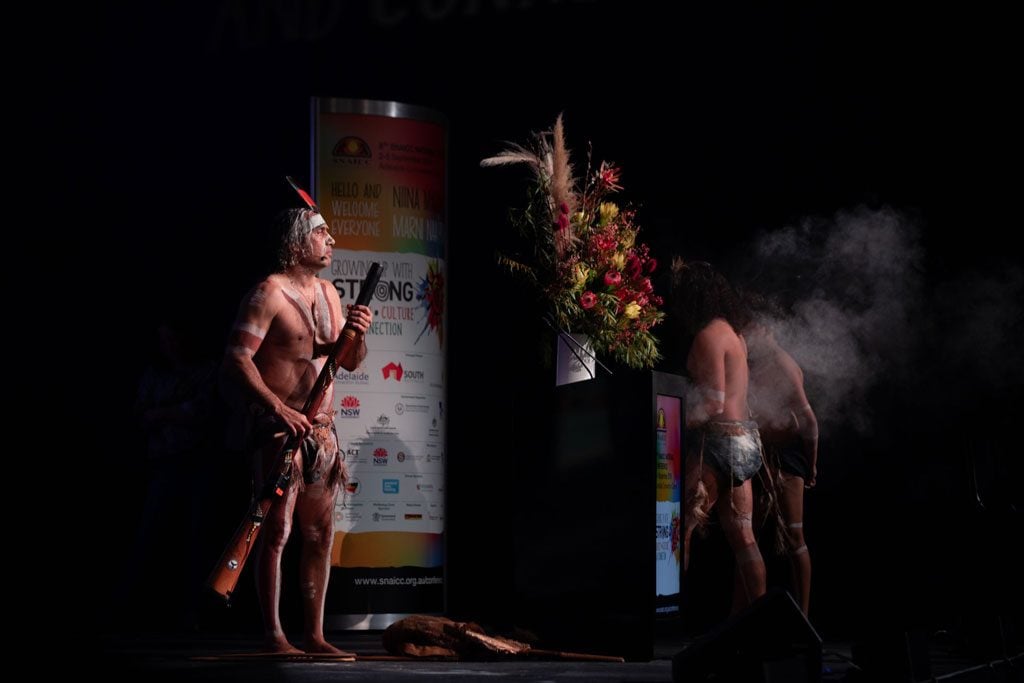 The Smoking Ceremony was initiated after a mesmerising performance by Yellaka's young local Aboriginal dancers – a moving experience to welcome all who had gathered on the Land of the Kaurna People to connect and share knowledge about improving outcomes for our children.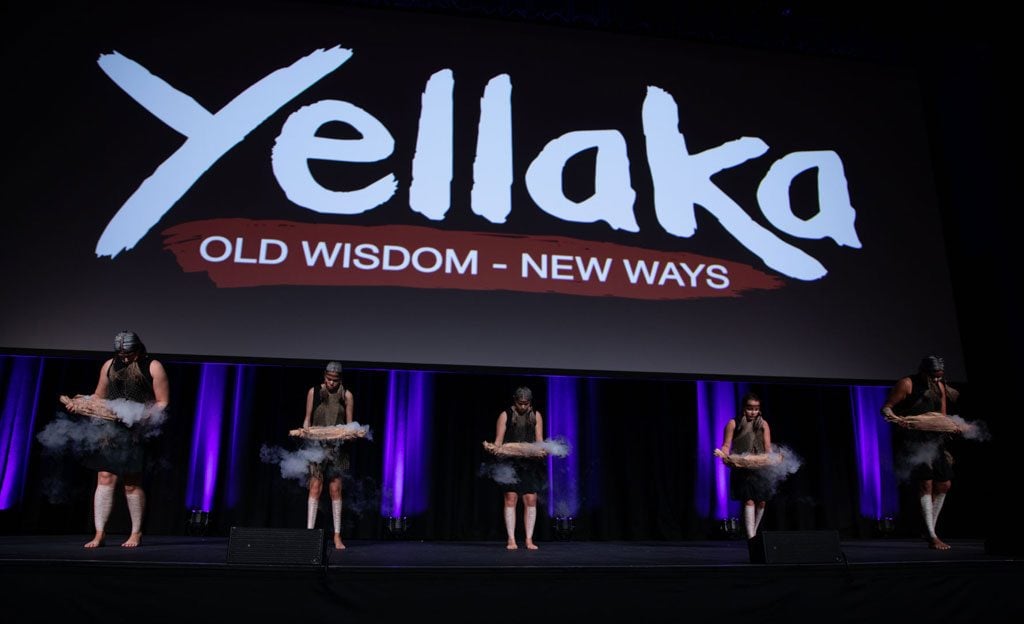 Adjunct Professor Muriel Bamblett, Chair of SNAICC, gave a welcome speech that reached out to the many organisations that have come together in Adelaide.
So many of you are changing lives of our children for the better. In this National Child Protection Week we want to celebrate the work you do, and build on the strengths of our communities who provide love, nurture and care for our young ones.
Muriel recognised there are big issues affecting our children.
We need to talk about deeply distressing and difficult issues, like family violence, mental health, homelessness and of drug and alcohol misuse in our communities – we need also to talk about the devastating suicides of too many of our children and young people."
And she spoke about "coming together to create supportive and healing environments".
– Adjunct Professor Muriel Bamblett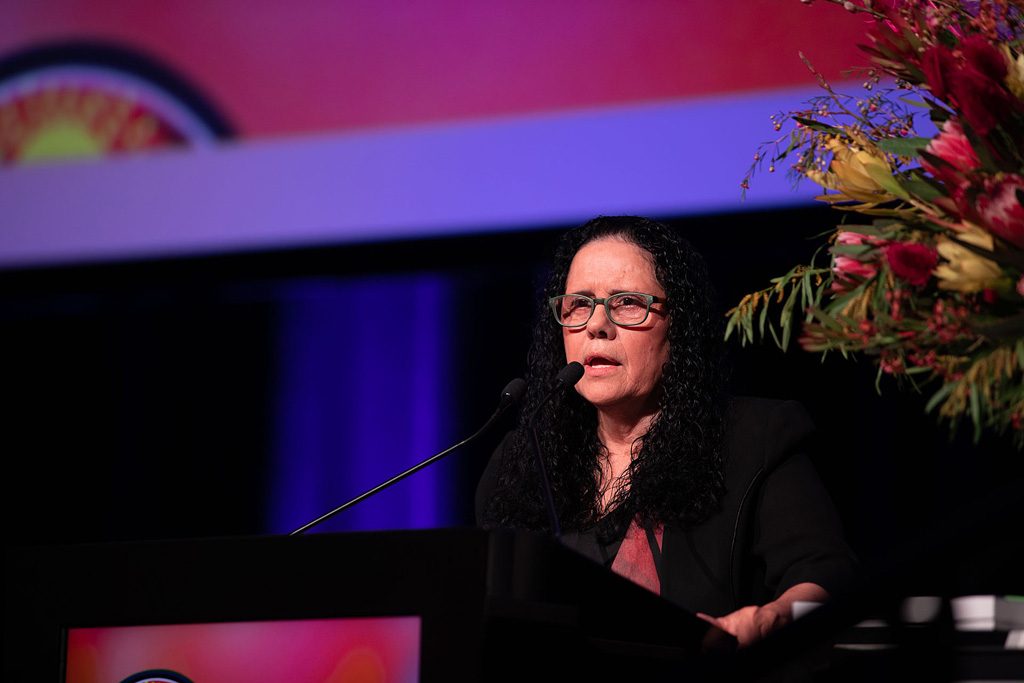 Muriel also commends the many services and practitioners in the early years sector at the conference that provide high quality early education programs and support for our families, and draws upon the challenges they face.
SNAICC has been deeply concerned by what services have told us about how they are struggling to provide the best supports and care for children following changes to the way early years services are funded."
Muriel spoke about SNAICC's priorities in calling for a National Commissioner for Aboriginal and Torres Strait Islander Children and Young People to ensure accountability of the systems and services to protect our children.
We are seeing changes where governments are committed to including Aboriginal and Torres Strait Islander people in driving decision-making."
– Professor Bamblett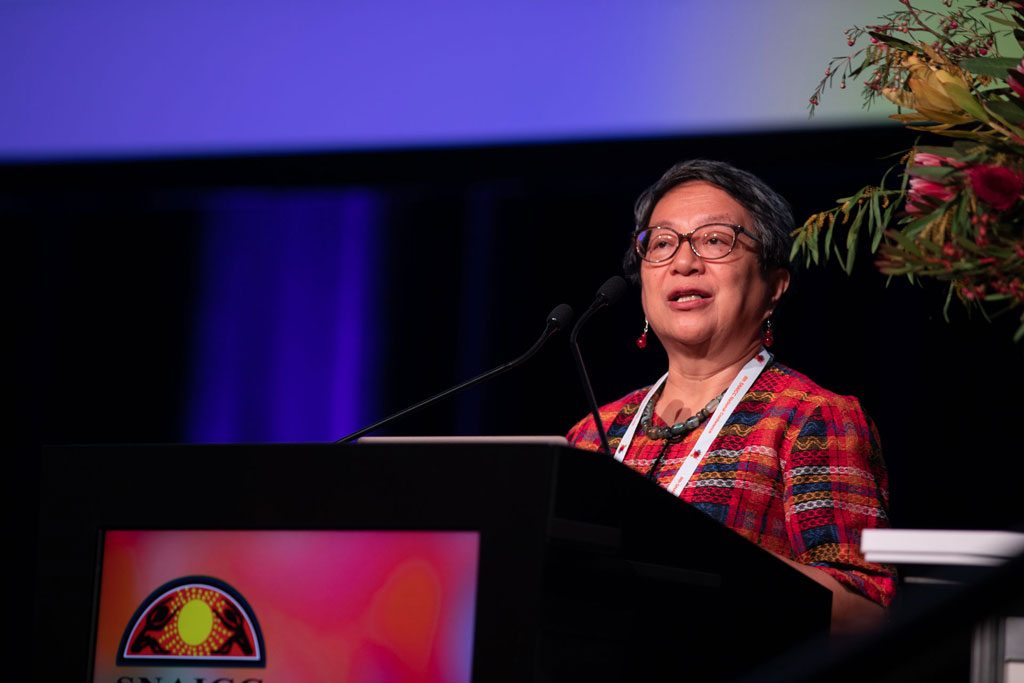 Victoria Tauli-Corpuz United Nations Rapporteur on the rights of the Indigenous peoples, brought her international expertise in human rights and applied it to the context of Australia.
Victoria called for the creation of a National Aboriginal and Torres Strait Islander Children's Commissioner "to ensure the needs of your children are taken care of at the national, state and local levels."
– Victoria Tauli-Corpuz, United Nations Rapporteur on the rights of the Indigenous peoples
Drawing upon her experience visiting youth detention centres in Australia, Victoria called for raising the minimum age of criminal responsibility to match international standards.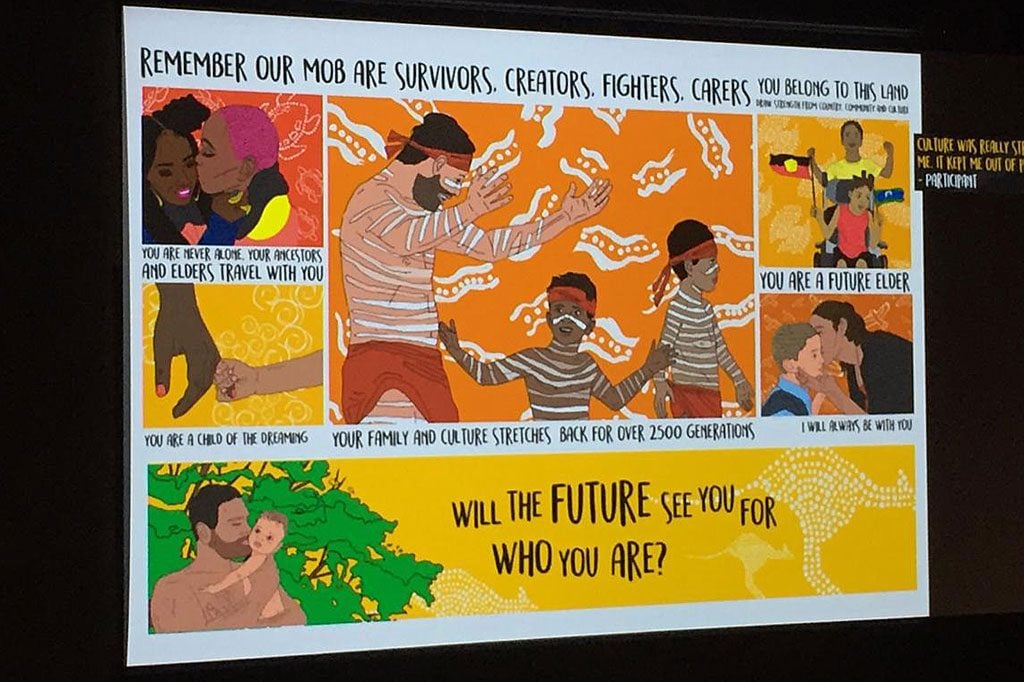 This sentiment was also echoed by Megan Mitchell, National Children's Commissioner from the Australian Human Rights Commission in the concurrent session on justice for our young people with the Koorie Youth Council, Commission for Children and Young People.
Commissioner Mitchell states a number of reasons for raising the age of criminal responsibility, with one being, "Many children in the justice system come from disadvantaged backgrounds and have complex needs that are better addressed outside the criminal justice system."
Things children in detention value are having a voice, being able to make complaints and seek redress, and time with family. Many children knew they could make complaints if they were ill treated but rarely did this for fear of being punished."
– Megan Mitchell, National Children's Commissioner from the Australian Human Rights Commission
A workshop on The Closing the Gap Refresh enabled delegates to contribute to the Coalition of Peaks priority areas for action to improve outcomes for Aboriginal and Torres Strait Islander families and children.
It spoke of strengthening Aboriginal community-controlled organisations in delivering Closing the Gap programs and services. And self-determination can be achieved when Aboriginal and Torres Strait Islander people are embedded into the decision-making.
June Oscar AO, Australia's Aboriginal and Torres Strait Islander Social Justice Commissioner gave an empowering presentation about women speaking out.
What we need is a model of two-way education that puts our knowledge on equal footing" in child and family practice. "Women are the stewards of this knowledge."
– June Oscar, OA, Australian Human Rights Commission
In the child protection space, sessions included a national review of child protection and implementation of the child placement principle, young people transitioning out of care, and a panel on achieving stability for Aboriginal and Torres Strait Islander children.
A national study by Associate Professor Phillip Mendes and colleagues from Monash University revealed that Indigenous young people were leaving care from the age of 15-17 years old,that Aboriginal and Torres Strait Islander young people were not getting adequate supports to live independently and often transitioning from out-of-home care into homelessness. It called for Aboriginal support services that young people trusted to be funded in proportion to the high number of Aboriginal children leaving care.
Barbara Causon of Community Services Directorate, spoke of the independent review of the ACT child protection system that led to the ACT Government working with SNAICC to deliver training for all children protection workers on implementing the five elements of the child placement principle.
Barbara Causon says, "Cultural plan numbers are high, but if you look under that the quality and implementation is very poor – we have seen appalling examples."
The review has recommended that there should be an Aboriginal and Torres Strait Islander Children's Commissioner in the ACT.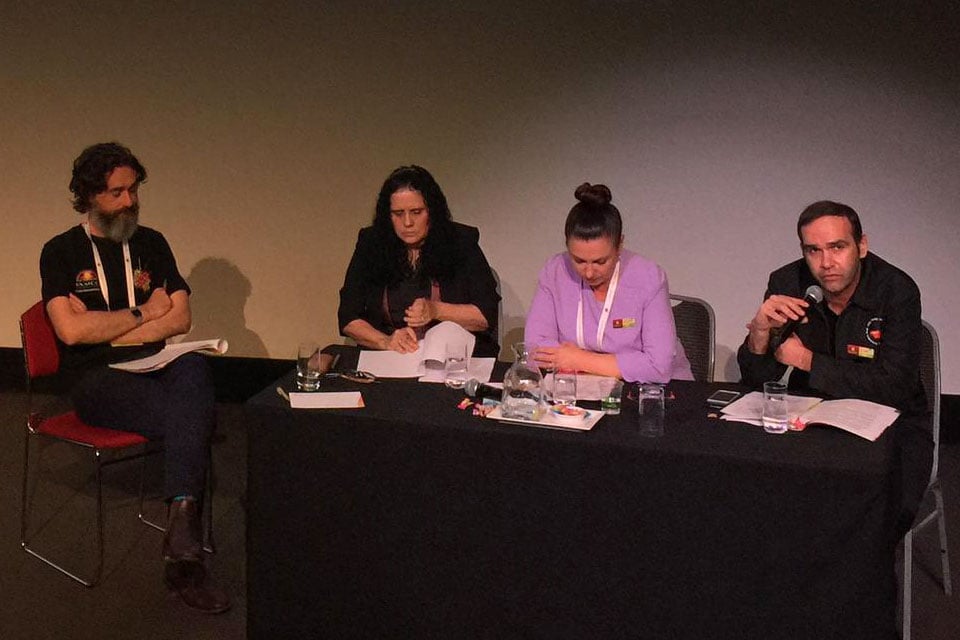 The panel on achieving stability for Aboriginal and Torres Strait Islander children included SNAICC's Chair Muriel Bamblett and SNAICC directors Tim Ireland, CEO of AbSec and Natalie Lewis, CEO of QATSICPP.
Natalie Lewis says, "I don't have a lot of confidence that a lot of thought is given to the needs of Aboriginal and Torres Strait Islander children. We can't put in permanency orders to mask poor practice."
While Tim Ireland adds, "We have to ask whose needs are being met by the moves to permanency."
We need to move from cultural advice – it's not our role to prop up systems that harm our children – it needs to be about cultural authority that places our families at the forefront of decision-making."
– Natalie Lewis, Co-Chair Family Matters
Delegates heard from a number of organisations on the early years starting off with a passionate discussion on the impacts of the transition to the New Child Care Package on Aboriginal and Torres Strait Islander early years services. Speakers included Geraldine Atkinson, Deputy Chair of SNAICC and CEO of VAEAI, Joanne Della Bonna, Council member for SNAICC and CEO for Coolabaroo Neighbourhood Centre, WA; and Rebekah Farmer from East Arnhem Regional Council Children's Service in Galiwinku, NT.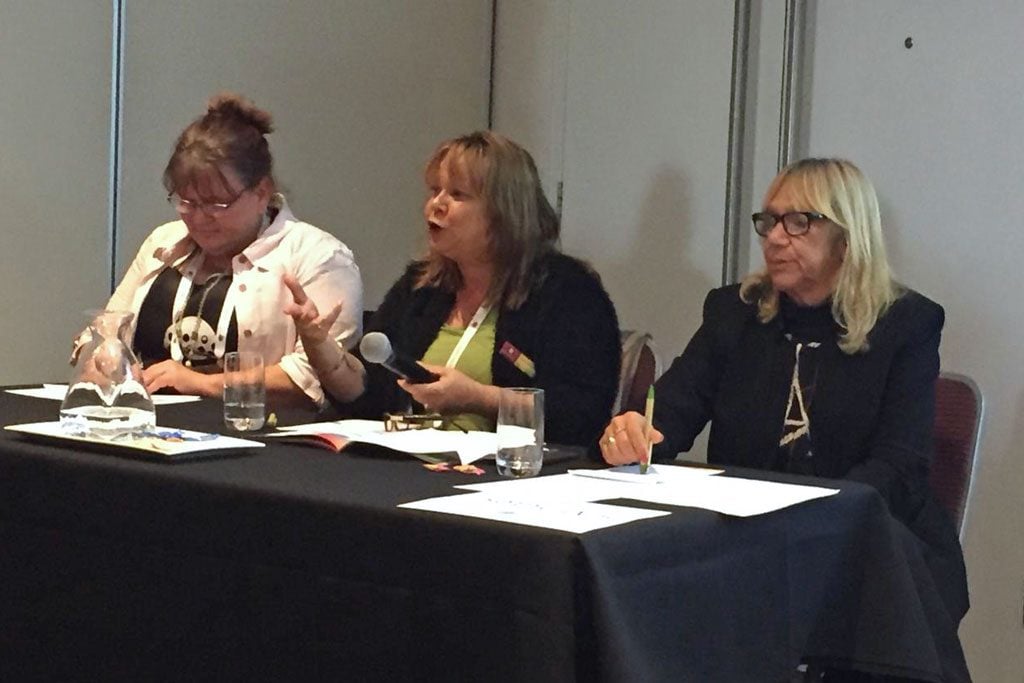 The session highlighted that Aboriginal and Torres Strait Islander children are accessing early years education and care services at half the rate of non-Indigenous children. The impact of the Activity Test meant children were not accessing childcare when previously they had.
Geraldine says, "Many of us in the industry have had a very challenging time, it hasn't been easy, but the effort we put in is for our children. It's all about our children having the right to education so they can become school ready and know where they form."
On an energy level we were run down – staff and parents found it so hard. For us on a journey level it has been so hard and one that I would never want to go through again."
– Joanne Della Bonna, SNAICC Council
Representatives from childcare centres from across the country were speaking out at the session about their experiences ranging from administrative challenges, making a loss because parents can't afford their payments and lack of support for children with particular needs.
As Miranda Edwards from Lullas Child and Family Centre states, "The Child Care Subsidy is the worst thing I've ever had to deal with in my 11 years as a director."
In conjunction with the Australian Institute of Family Studies (AIFS), the department is conducting workshops and interviews about their experiences of the Child Care Package.
More sessions on early childhood education ranged from topics on playing and learning together, supporting babies and toddlers in Alice Springs and the power of culture and language in learning.
An example of self-determination in empowering communities was demonstrated by the session led by the WETT Advisory Committee – an Aboriginal-led group that decides how mining money should be spent on bettering education within communities running early years programs and supporting secondary children going to boarding school.
Aarnja and Save the Children representatives also spoke about the empowering communities project.
We collected our own data within communities rather than waiting for outsiders to do this, to understand the concerns and needs of families in the community. Community developed the survey questions, collected and analysed the data."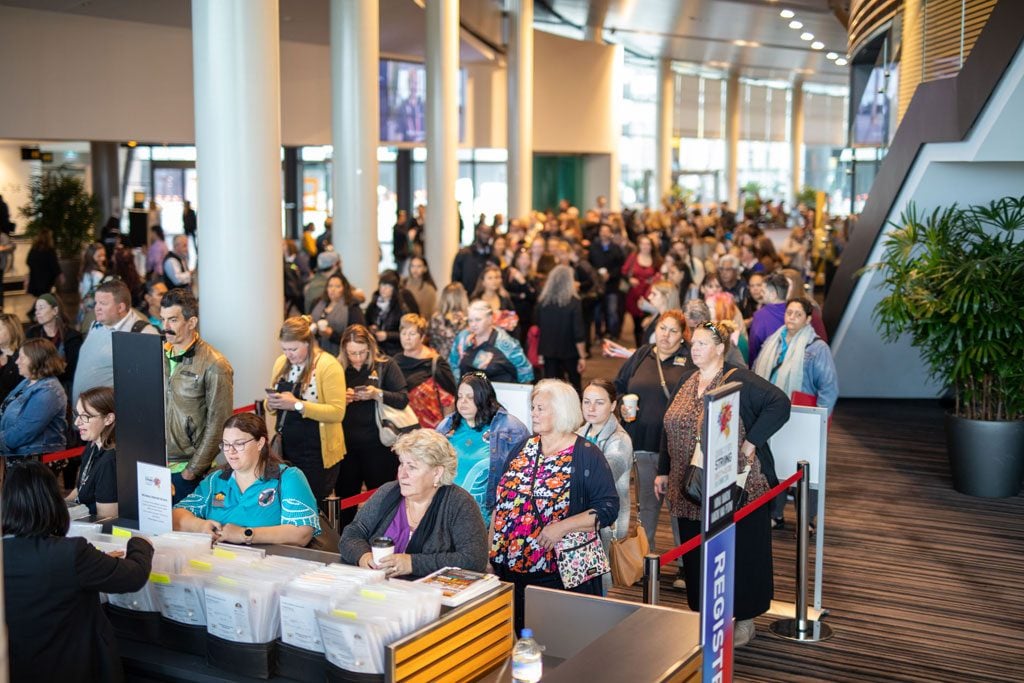 The exhibitor hall was buzzing with delegates throughout the day, exploring the many resources ranging from handmade dolls to early learning packs.
After a packed day of learning and sharing, they joined together for a welcome reception on the Riverbank Promenade with an acoustic performance by up-and-coming musician Nathan May.
Welcomed by SNAICC's Deputy Director, Geraldine Atkinson, Commissioner Phillip Brooks of Queensland Family & Child Protection finished off the evening by acknowledging the great work of all child and family practitioners from around the country as delegates enjoyed refreshments by the majestic Karrawirra Pari (red gum forest river).