The final day of the 8th SNAICC National Conference, which attracted record-breaking numbers of 1230 delegates, was a mood of quiet contemplation after two full days of sharing and learning.
The audience laughed and cried as the Kalaya Children came on stage and performed early years songs in language – reminding us all of the importance of our work.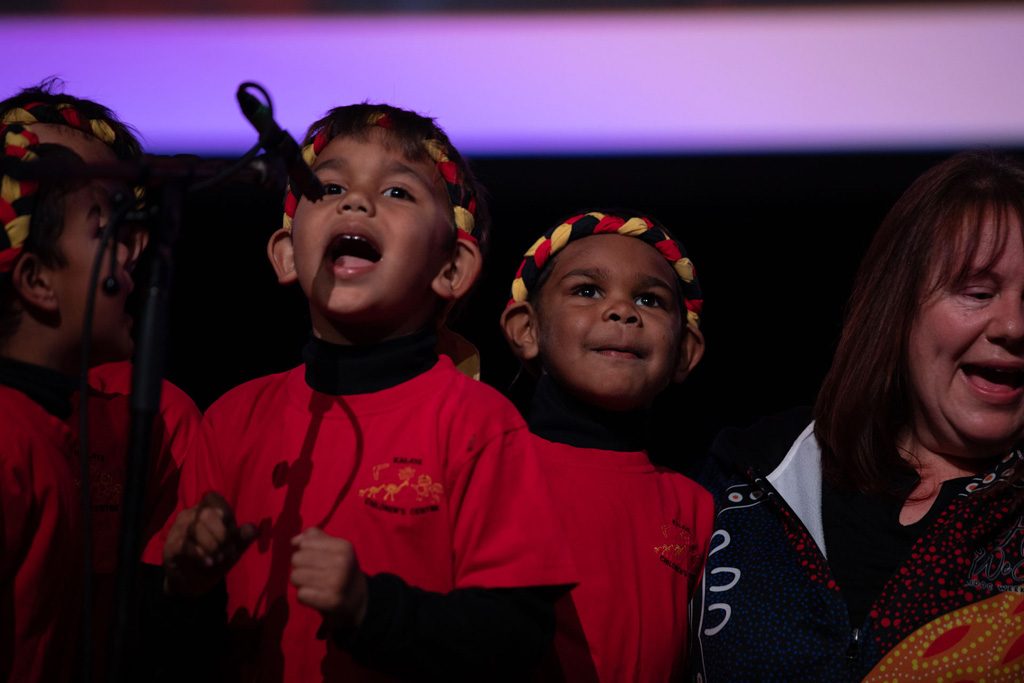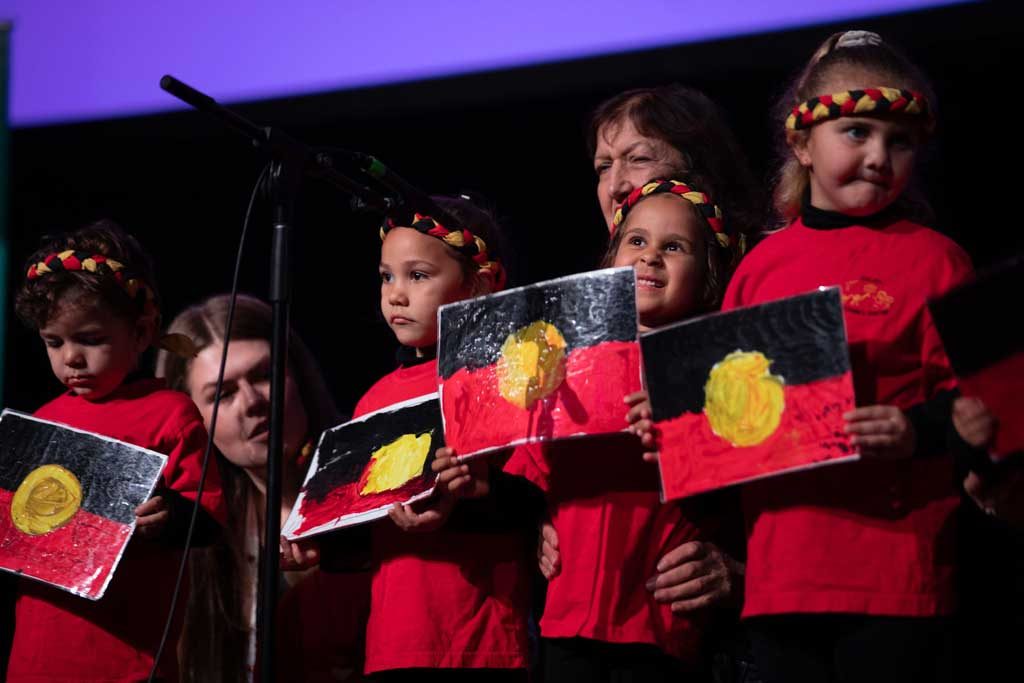 Dr Moana Eruera from the Oranga Tamariki: Ministry of Children, New Zealand began her presentation singing a moving song from her childhood about a mother and a child.
She began, "My spirit is settled if I see my people in the room."
Focusing on traditional cultural constructs informing statutory practice development with Māori children, she said, "Finding families isn't just about finding a placement for a child. It's much deeper than that."
Moana talks about her personal Māori identity, her whakapapa. She asked her father what she should tell delegates at the conference and he replied:
Tell them that your children can go to school, learn their language – if I spoke my language I got the strap. Tell them that we have a Māori political party…"
– Dr Moana Eruera, Oranga Tamariki: Ministry of Children, NZ
Moana said the Māori people wanted language to become a natural part of New Zealanders' lives, and embedded in policy and legislation.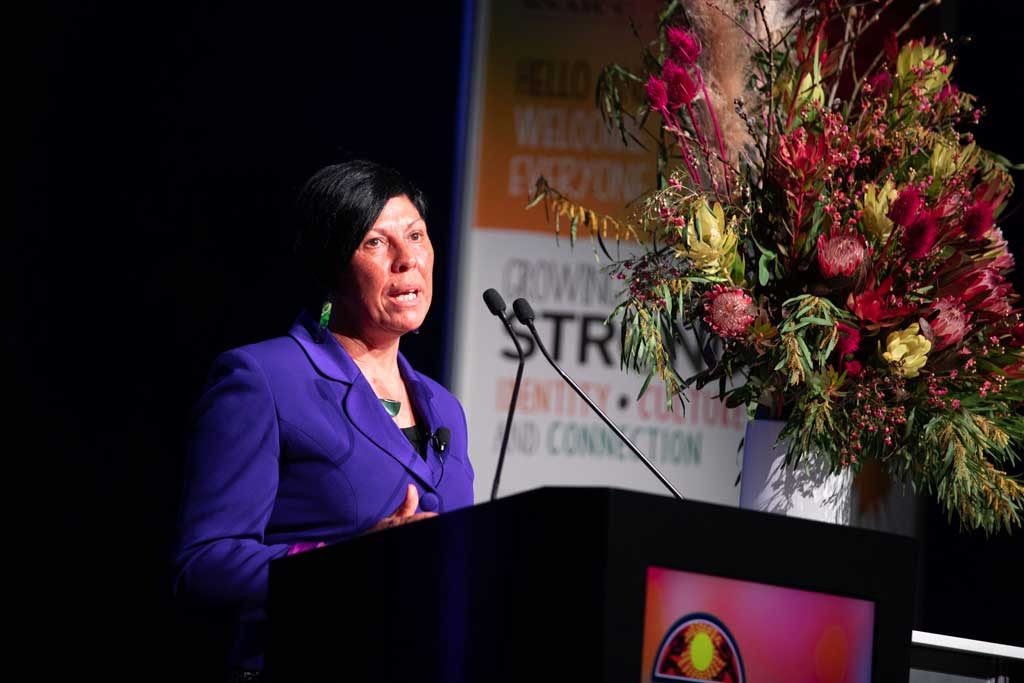 When speaking of processes within child protection, Moana explains each case worker needs to be able to research three generations of the child's family, and they have access to a specialist in family research.
Moana also highlighted the obligation from the Waitangi treaty in that "all workers, even non-Maori workers, have a responsibility to engage families in decisions affecting them at the earliest opportunity."
– Dr Moana Eruera, Oranga Tamariki: Ministry of Children, NZ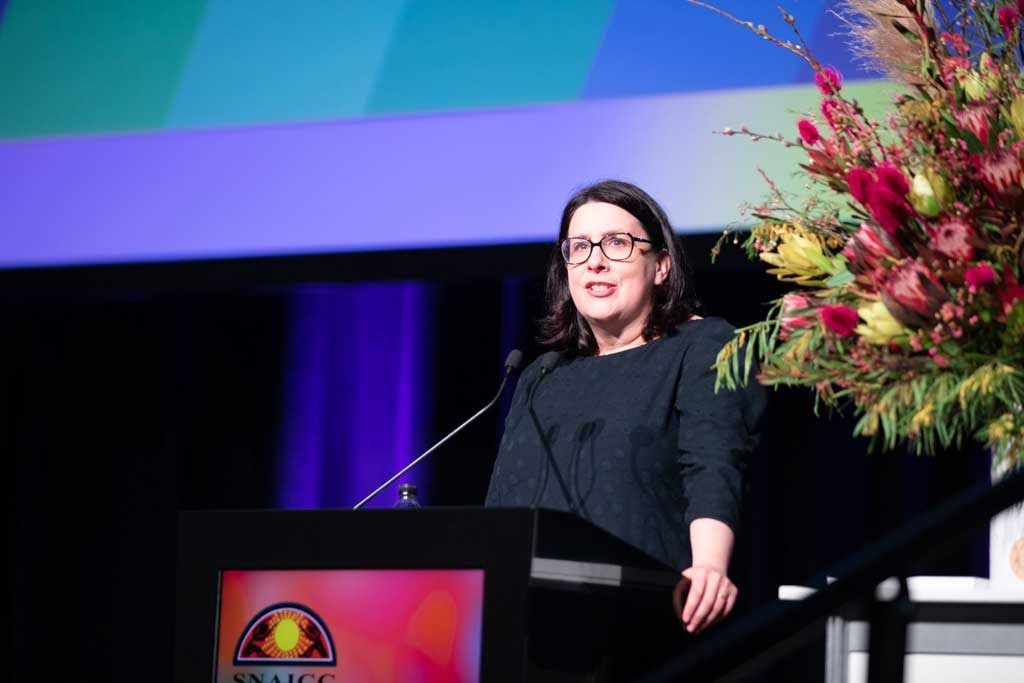 Professor Fiona Arney from the University of South Australia gave an emotional presentation on child and family-focused system redesign.
Fiona presented new findings from South Australian research using a principles approach that focuses on early intervention and prevention within families and communities.
We need to stop designing the system around the system. We need to design a system that's designed for the children, young people and families."
– Professor Fiona Arney, University of SA
Discussions around young people's decision making were also prevalent in sessions focusing on the strengths of youth. Lou Turner from The Healing Foundation spoke about the National Youth Healing Framework that was recommended in the Our Healing, Our Way National Youth Healing Forum Report as a way for governments and stakeholders to make a commitment to young people.
True co-design isn't an after thought, young people are at the centre of every process of the design of this framework."
– Lou Turner, The Healing Foundation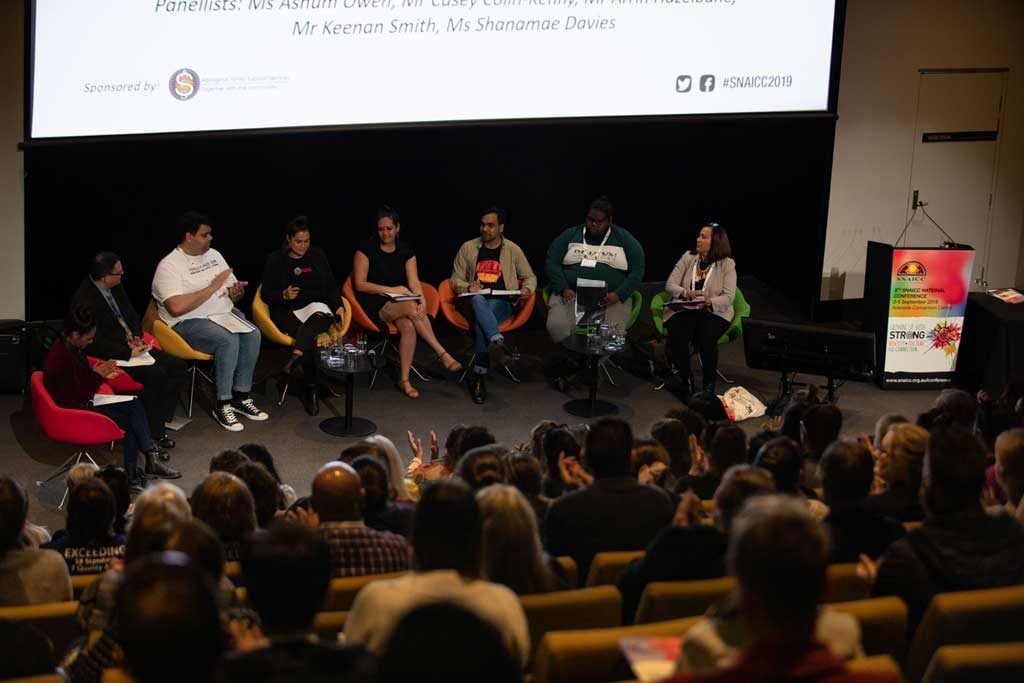 A panel focusing on strengthening the voice of Aboriginal children and young people as policy shapers was facilitated by Natasha Wanganeen with April Lawrie, Commissioner for Aboriginal Children and Young People in South Australia and Phillip Brooks, a Commissioner from the Queensland Family and Child Commission who were joined by youth panellists Ashum Owen, Casey Colin-Kenny, Arrin Hazelbane, Keenan Smith and Shanamae Davies.
Natasha started off the discussion. "Far too often the voices of Aboriginal and Torres Strait Islander children and young people go unheard."
– Natasha Wanganeen, actor and producer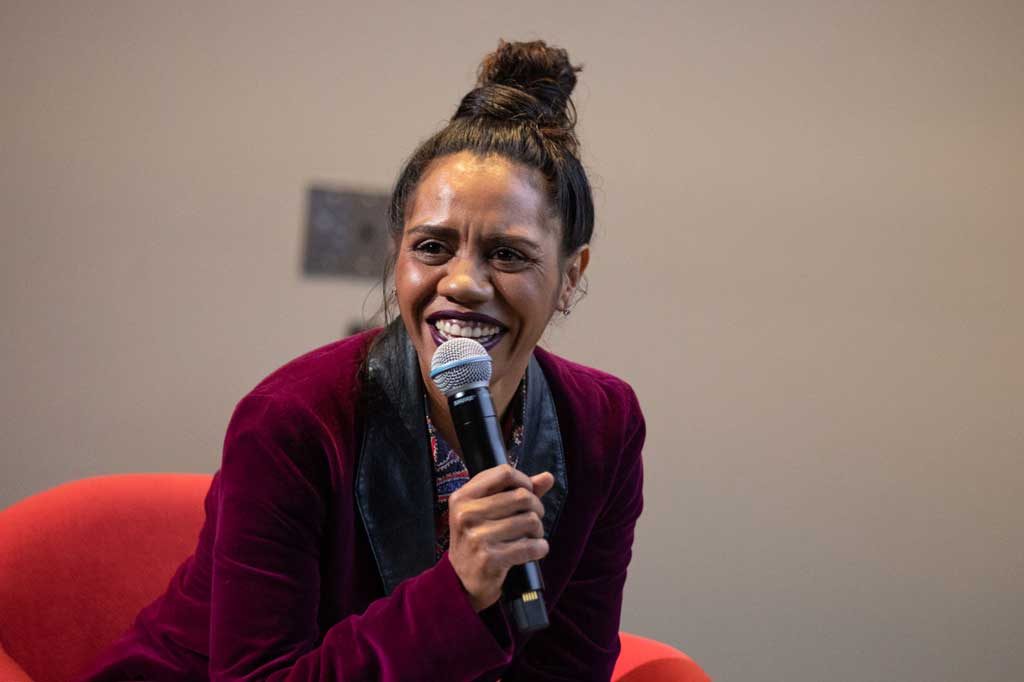 Comments from the young people on the panel were energetic and full of passion:
Getting young people involved early on, allowing them to understand how community works and how decisions are made will allow us to have a seat at the table."
Young people deserve genuine and deep listening."
If you don't have a seat at the table, you're probably on the menu."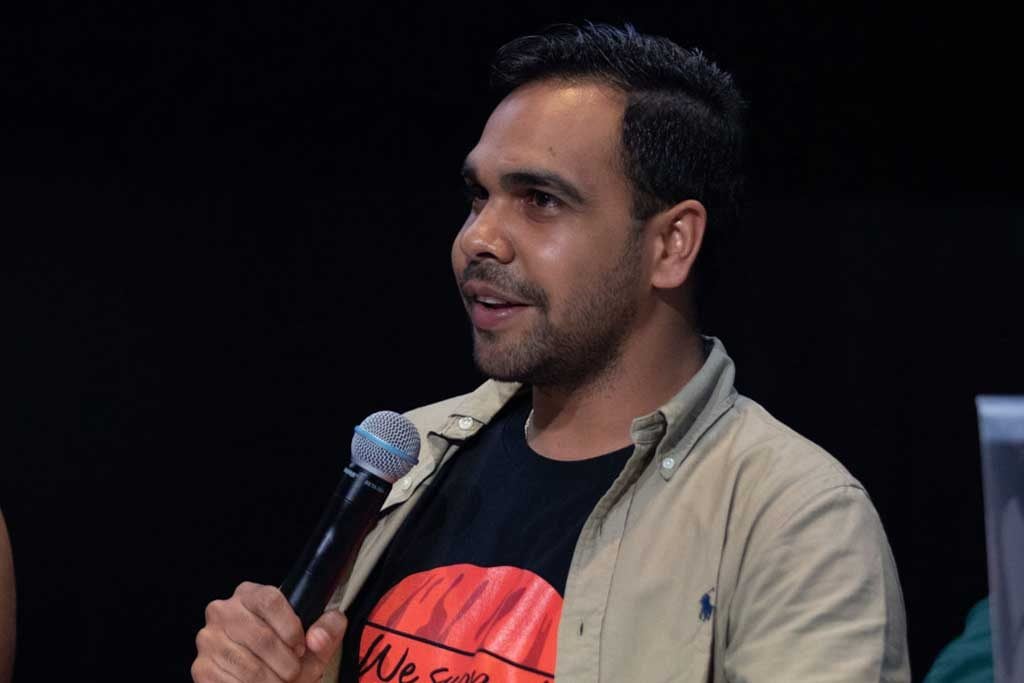 And when the panel was asked how they would respond to views that young people don't have the experience or expertise to be involved in policy making, they replied:
We are all experts in our own lives and young people are no different."
My knowledge and strength has been ingrained in me by my family."
Midwifery student Shanamae Davies drew on her experience working with Aboriginal and Torres Strait Islander children.
Our children are strong when our families are strong."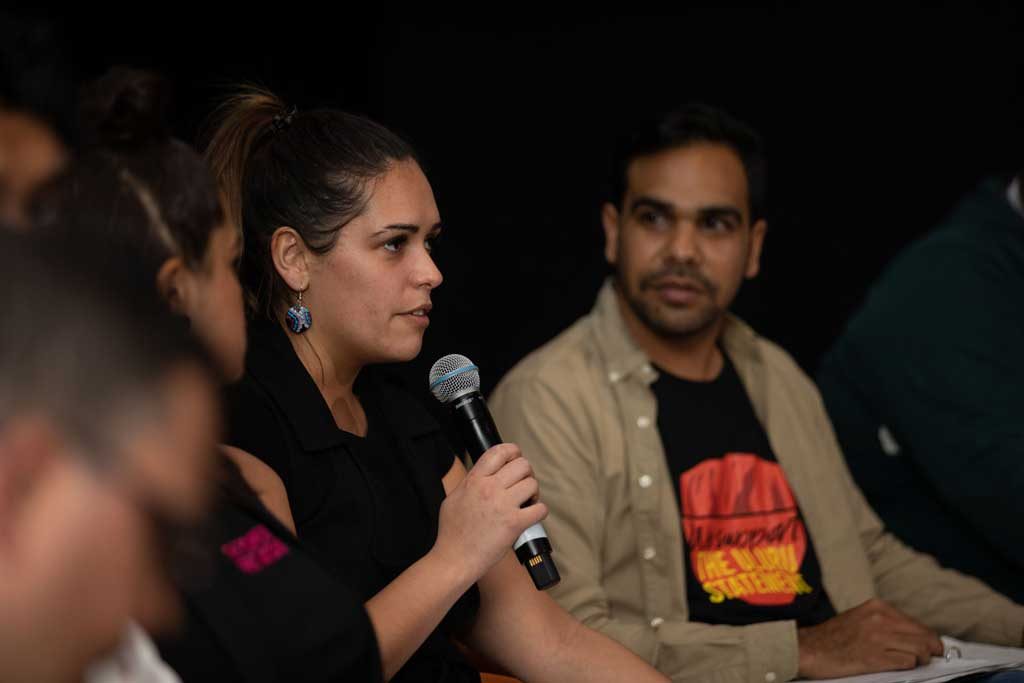 At the same time, sessions focused on healing within families and building resilience, while others looked at effective models to support early learning and transitioning to school.
In relation to family violence, VACCA presented on a program that focuses on healing through culture, while Korna Winmil Yunti presented on the Safer Families Hub model.
Craig Rigney from KWY recognises that women are expected to carry the burden and accountability of family violence. The Safer Families Hub model treats the whole family as part of the care with workers that are therapeutic and trauma-informed. It focuses on the role of men, giving them a safe place to talk and learn new ways to cope with trauma while still accepting responsibility for violence.
Another session on supporting Aboriginal children and families through partnership by the Central Australian Aboriginal Congress focused on working with families with highly complex needs, and looking at supporting them within a holistic framework.
We look at parenting values and expectations. We couldn't teach parenting skills to parents because they were experiencing so many challenges – so we focus on helping parents to regulate their own emotional state so that they are able to be emotionally available for children."
For example, if a parent needs better housing, the support starts there.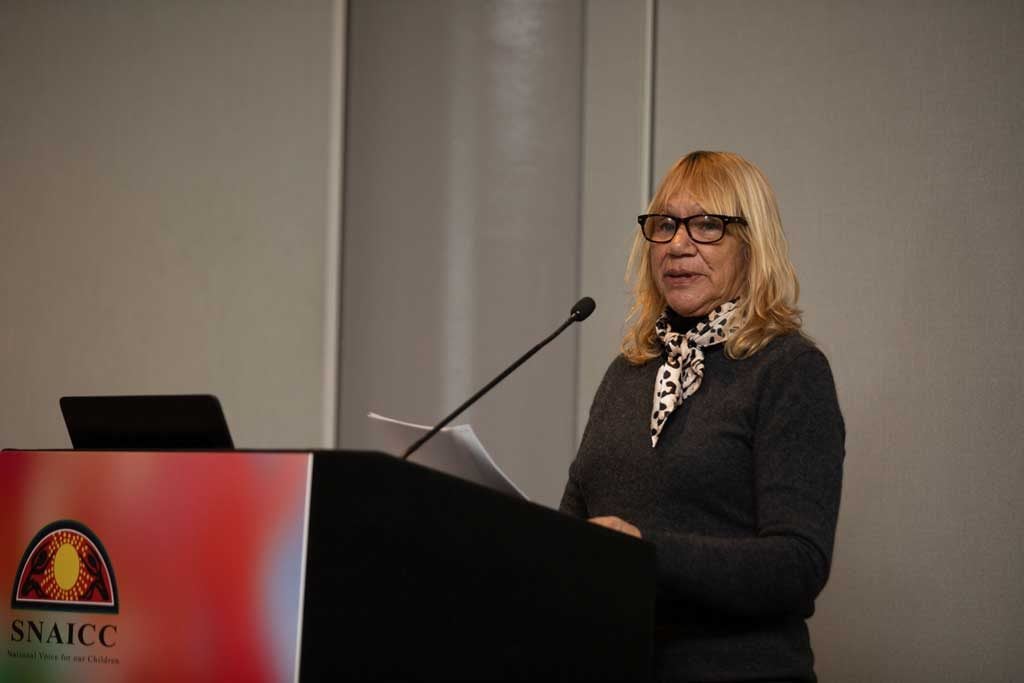 There were also a number of sessions focusing on supporting early learning and transitioning to school.
The Koorie In-Home Support and Home-based Learning programs run by the Victorian Aboriginal Education Association Incorporation (VAEAI) allows families to support their children at home.
There's something so empowering about seeing Aboriginal women and families talking about their experiences with programs."
Positive outcomes of the programs range from attachment and bonding between parent and child; social connections with other parents; and parents don't feel isolated.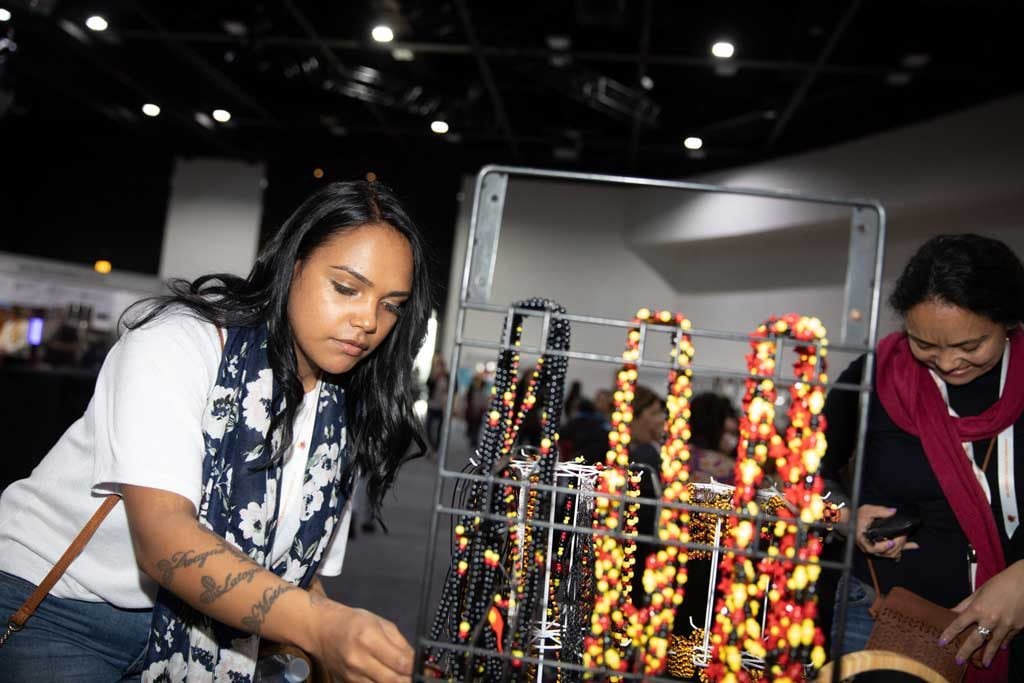 Early learning resources were on display in the exhibition hall by organisations, as well as throughout the sessions. Booths included Nunkuwarrin Yunti of South Australia, Yarn Strong Sista from Victoria, Cultural Inclusions from the Torres Strait Islands and traditional educational items from Sonja Aylmore at Awe and Wonder, WA.
In the afternoon, delegates could enjoy browsing the arts market displaying local wares from traditional baskets and jewellery, as well as traditional food items.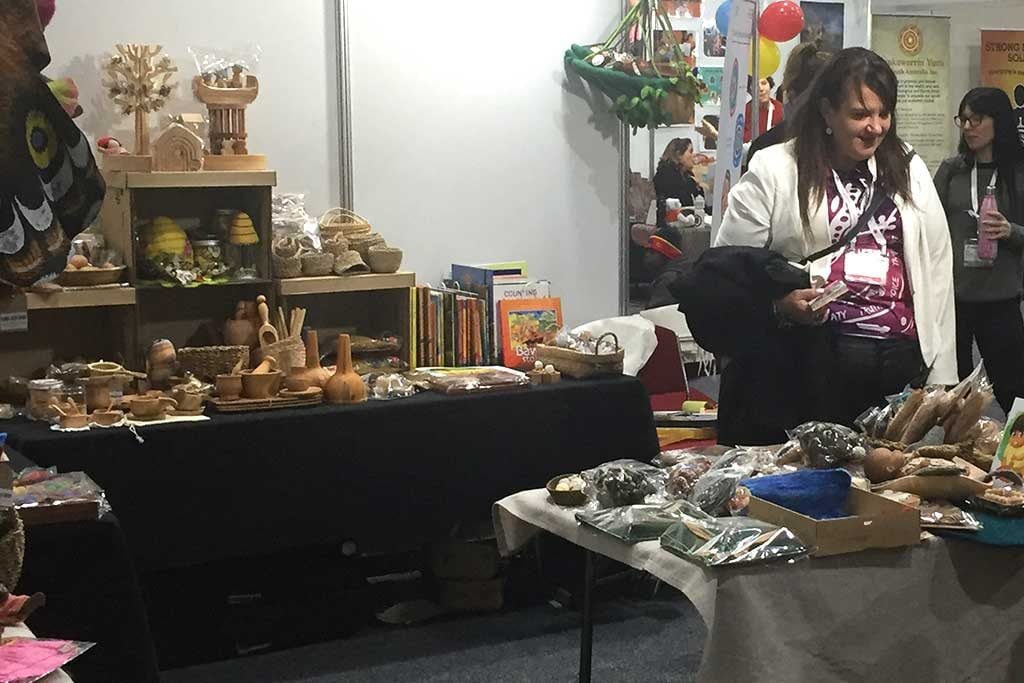 The final closing plenary brought the conference to an end with a panel titled: Towards a post-2020 agenda: establishing a national Aboriginal and Torres Strait Islander children's strategy.
Facilitated by media presenter and teacher Shelley Ware, the panel brought together Dr Brian Babington, CEO of Families Australia; April Lawrie, Commissioner for Aboriginal Children and Young People, SA; Senator Rachel Siewart, Greens, WA; Cathy Taylor, Department for Child Protection, SA and Adjunct Professor Muriel Bamblett, Chair of SNAICC – National Voice for our Children.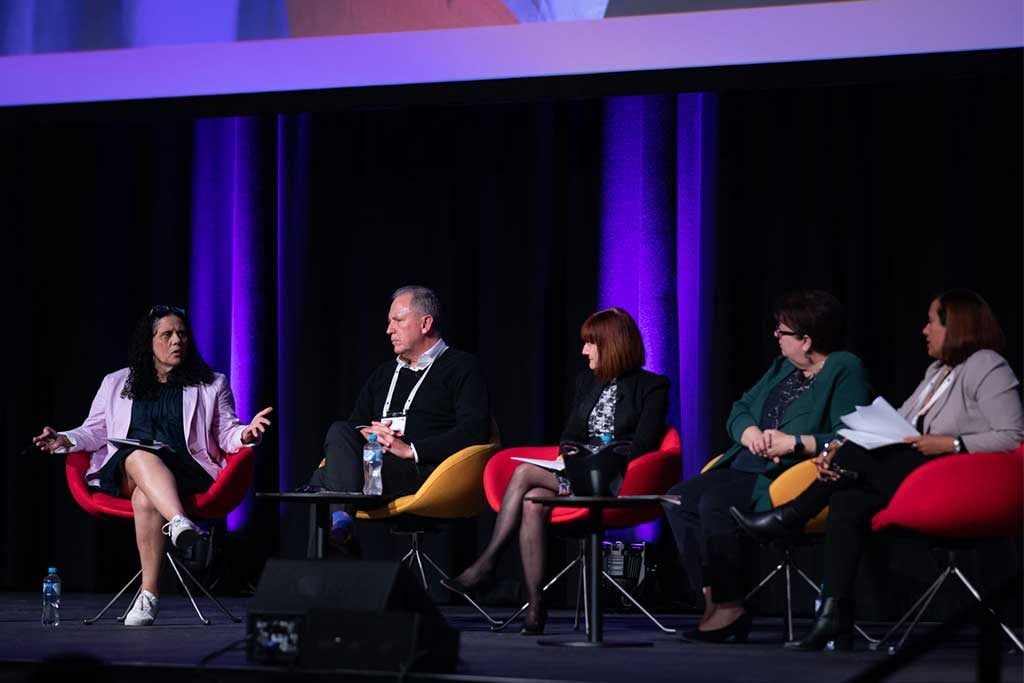 Commissioner April Lawrie gave the first address.
I have been travelling across South Australia to hear directly from Aboriginal and Torres Strait Islander families and communities."
For too long their voices have been marginalised, as Isaiah spoke yesterday, they have the voices but they don't have the platform. And the work I am doing hopes to give them the platform."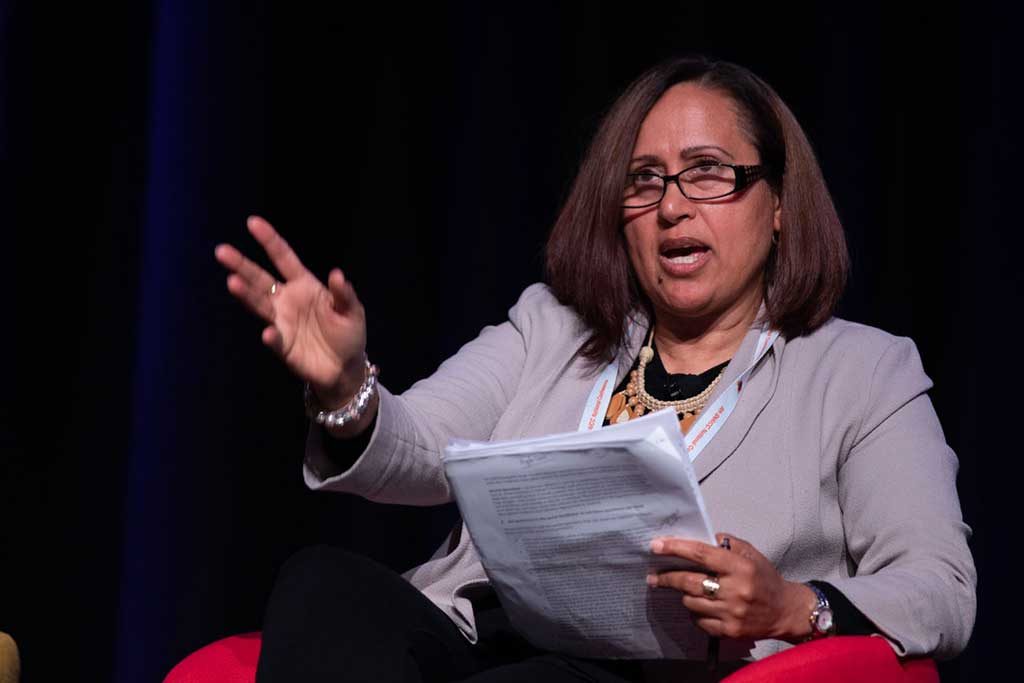 April drew upon the existing programs that need more support and referenced Aboriginal care committees, family-led decision making, Aboriginal kinship care policy, Aboriginal-specific early intervention services, improved domestic violence services and community-led Aboriginal peak bodies.
Our Aboriginal communities have programs that already show promise."
– April Lawrie, Commissioner for Aboriginal Children and Young People, SA
Dr Brian Babington, CEO of Families Australia, spoke of the national framework as being important in enabling the Commonwealth, states and territories to work alongside NGOs to develop a national approach to policy in child protection.
SNAICC, he said, was instrumental in using the framework as a vehicle for driving the Aboriginal and Torres Strait Islander Child Placement Principle throughout jurisdictions, calling it "a landmark achievement."
– Dr Brian Babington, CEO of Families Australia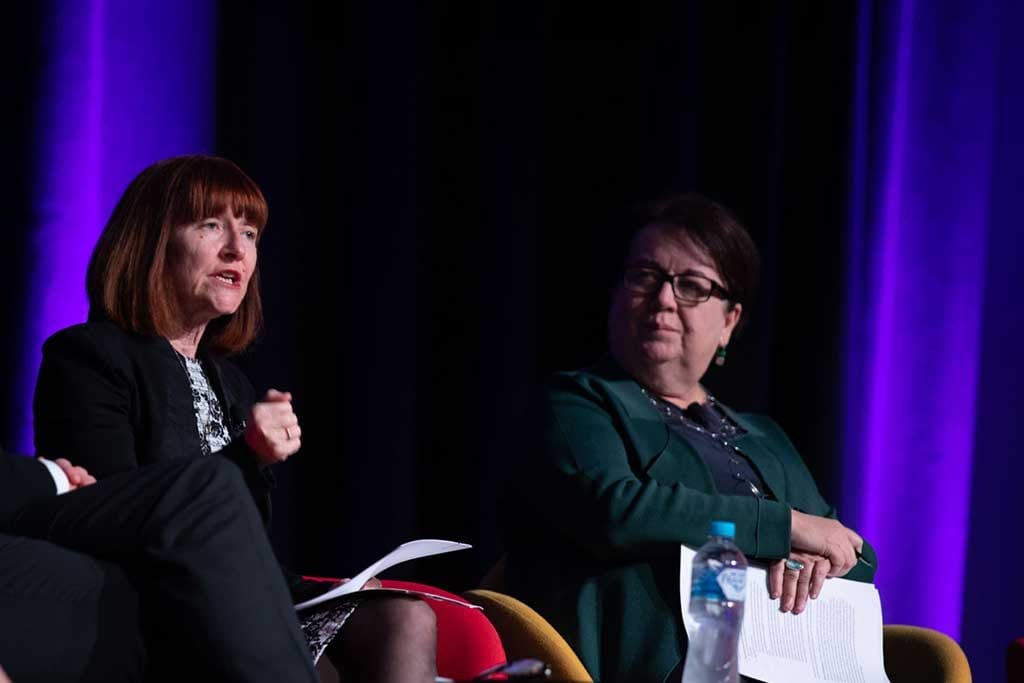 Senator Rachel Siewart took a strong stance against the Commonwealth Government's use of "top-down, punitive, silver-bullet approaches" to looking after Aboriginal and Torres Strait Islander children.
For example, Rachel said the Commonwealth looks at inter-generational trauma from a deficit model instead of from a strengths perspective.
Rachel stressed the need to look at early intervention and support programs with long-term funding.
Cathy Taylor, Department for Child Protection in South Australia, also stressed that there hasn't been enough investment in early prevention, and focused on bringing the child placement principle, "back to life".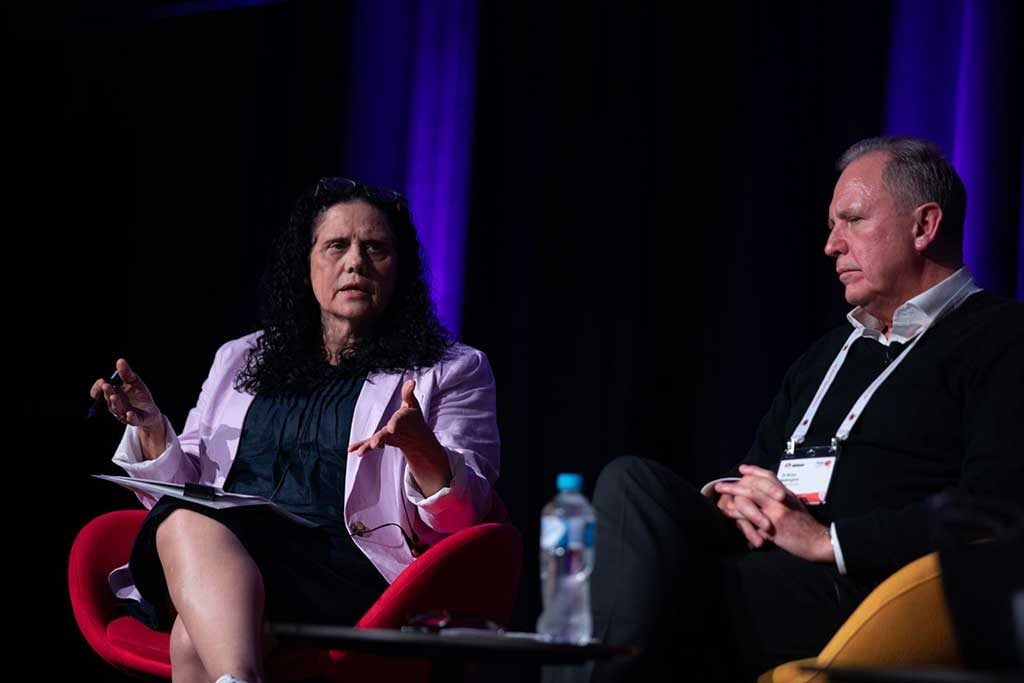 Adjunct Professor Muriel Bamblett from SNAICC concluded the panel with a statement on the lack of power and authority given to community-controlled organisations.
Muriel said, "At Commonwealth level, we don't seem to have that level of respect and understanding with Aboriginal people sitting at the table."
In highlighting the difference in government action, she said, "Some governments are willing to let go, some governments won't let us do it." And she spoke of disparity in the number of Aboriginal and Torres Strait islander child and family services in different states and territories.
Muriel received loud applause from the audience when she said, "You give all this money to the mainstream services and they don't deliver. We need to build our communities. We need to be in control of our lives."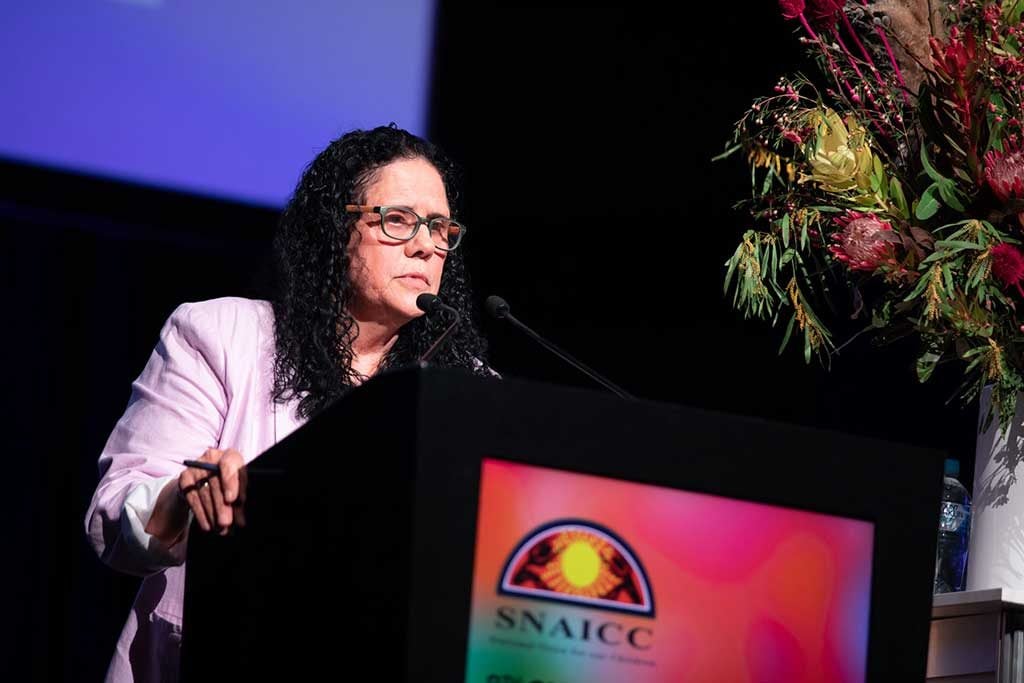 In Muriel's closing address and communiqué to the delegates, she concluded the conference with key calls.
As one voice, we call for urgent action to be taken to ensure that Aboriginal and Torres Strait Islander children have every opportunity to grow up safe and cared for in their family, community, and culture, and on country."
– Adjunct Professor Muriel Bamblett
Our key calls for action are:
The establishment of a National Aboriginal and Torres Strait Islander Children's Commissioner.
A comprehensive Aboriginal and Torres Strait Islander Children's Strategy that includes generational targets to eliminate the over-representation of Aboriginal and Torres Strait Islander children in out-of-home care.
A dedicated funding program for integrated Aboriginal and Torres Strait Islander early years services, and an exemption to the child care 'Activity Test' for our families.
An end to legal orders for permanent care and adoption for Aboriginal and Torres Strait Islander children, replaced by a focus on supporting the permanence of their identity in connection with their kin and culture.
The audience all stood in support of the communiqué, and applauded the hard work and efforts of all speakers, presenters and delegates who have gathered together to share best practice to better the lives of Aboriginal and Torres Strait Islander children.
Muriel announced the venue for the 9th SNAICC National Conference to be on the Gold Coast, Queensland, where delegates will meet in 2021.
All photos and presentations will be available soon.