The 7th SNAICC National Conference is officially underway, with Dr Matilda House welcoming over 1150 delegates to Ngambri and Ngunnawal Country.
At such a large gathering to discuss the wellbeing of our children, it was incredible to have children present at the opening plenary, sharing their cultural performances with the Ngambri Dreamtime Dancers and the ACT Torres Strait Islander Dance Group, as well as the Queanbeyan South Public School children's choir.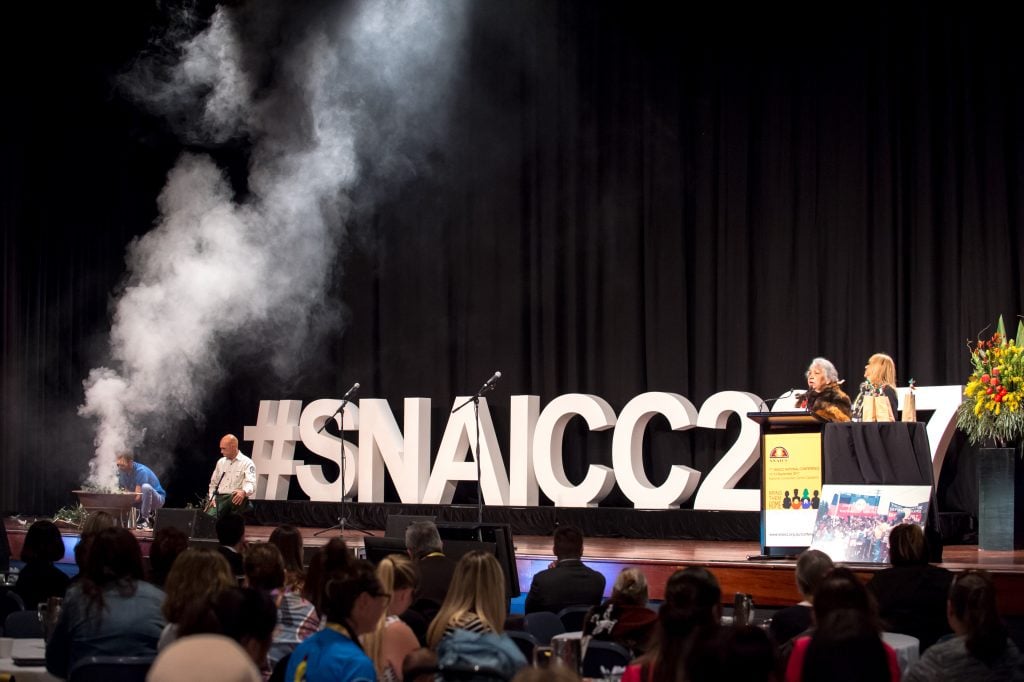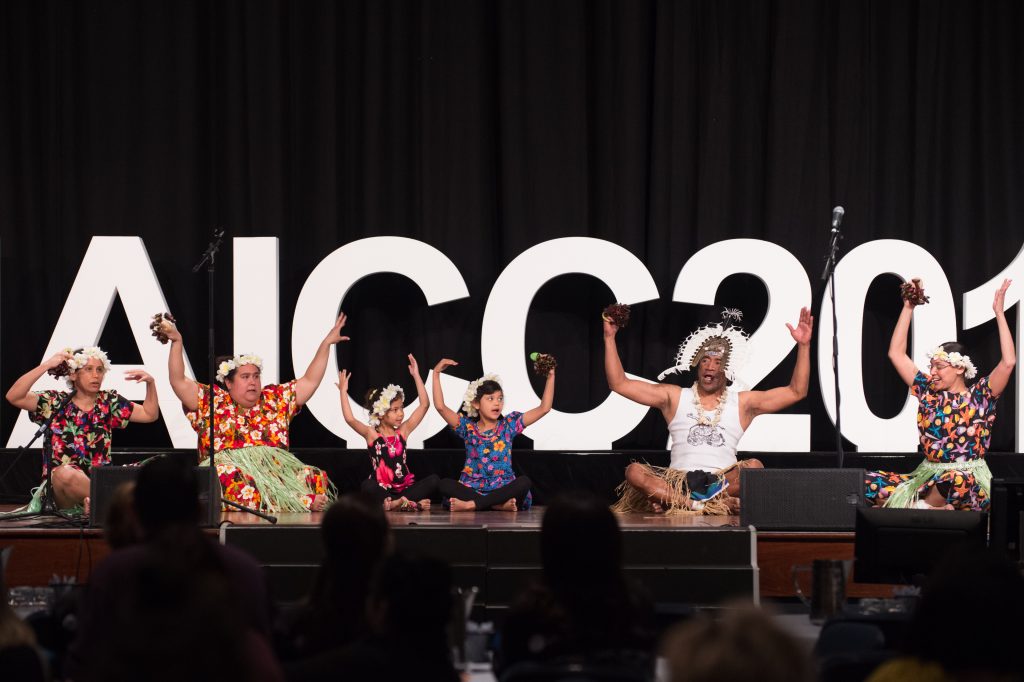 Commonwealth Minister for Education and Training, the Hon. Simon Birmingham, delivered a welcome message to a full auditorium at the National Convention Centre, Canberra.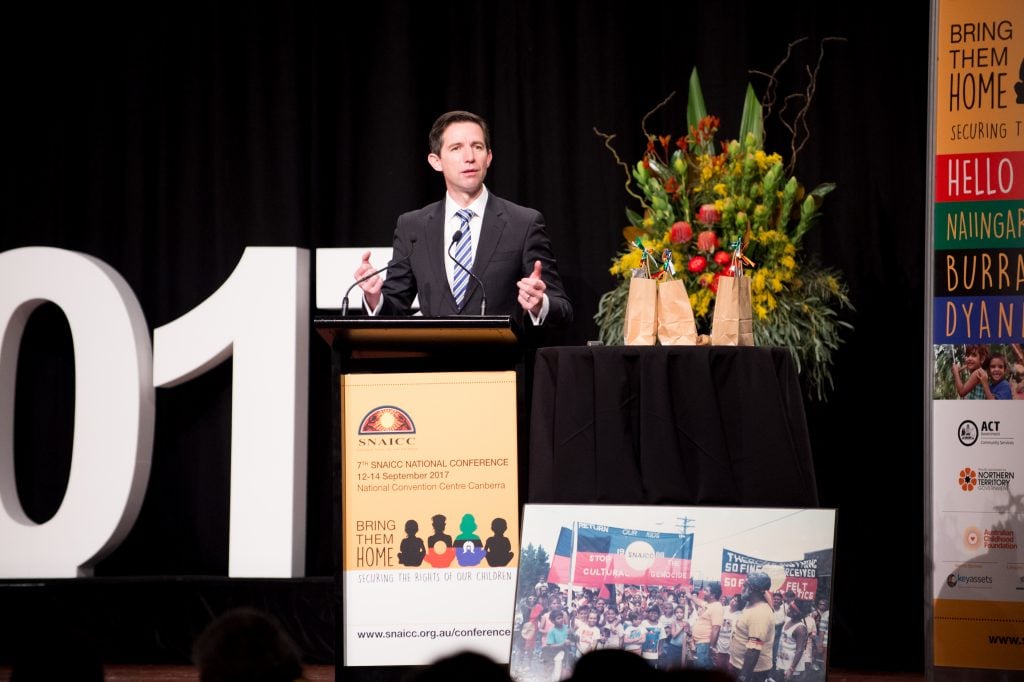 The 7th SNAICC National Conference coincides with the 20-year anniversary of the seminal Bringing Them Home report, and the two keynote speeches in this opening plenary centred on the importance of keeping First Nations children culturally strong and cared for within family and community.
In a powerful and deeply moving welcome address, Professor Mick Dodson, Director of the National Centre for Indigenous Studies at The Australian National University, discussed the devastating impacts of the Stolen Generations on Aboriginal and Torres Strait Islander families and communities.
If you take our children, you take the future of our culture."

"Removal is not a thing of the past: it's still happening to our people as I speak."

"We might not be able to get back children who were removed fifty or sixty years ago, but we can get back children being removed today."

– Professor Mick Dodson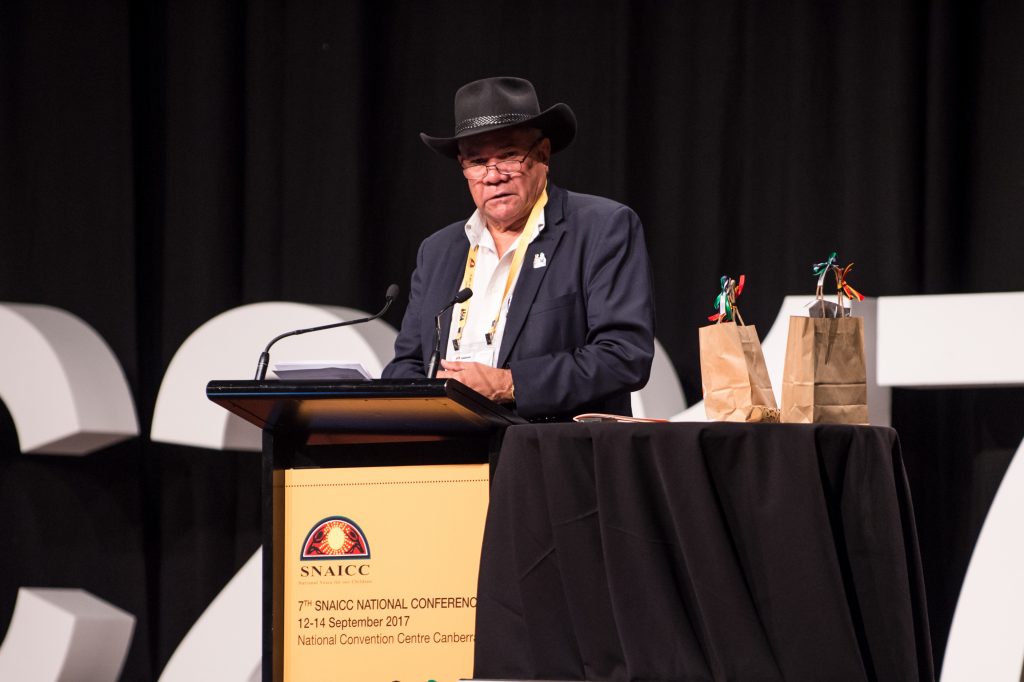 Dr Sarah Kastelic from the National Indian Child Welfare Association (NICWA) shared insights from the ongoing fight to keep Indigenous children in the United States connected to culture.
In the face of disproportionate rates of removal of Indigenous children throughout the US, Dr Kastelic stressed what has been known here in Australia for a long time: the best outcomes for Indigenous children and families are delivered by Indigenous communities and organisations.
Dr Kastelic ended this morning's session with an inspiring call to work together to improve the wellbeing of Indigenous children across the world.
We have a sacred responsibility and our children cannot afford to wait."

– Dr Sarah Kastelic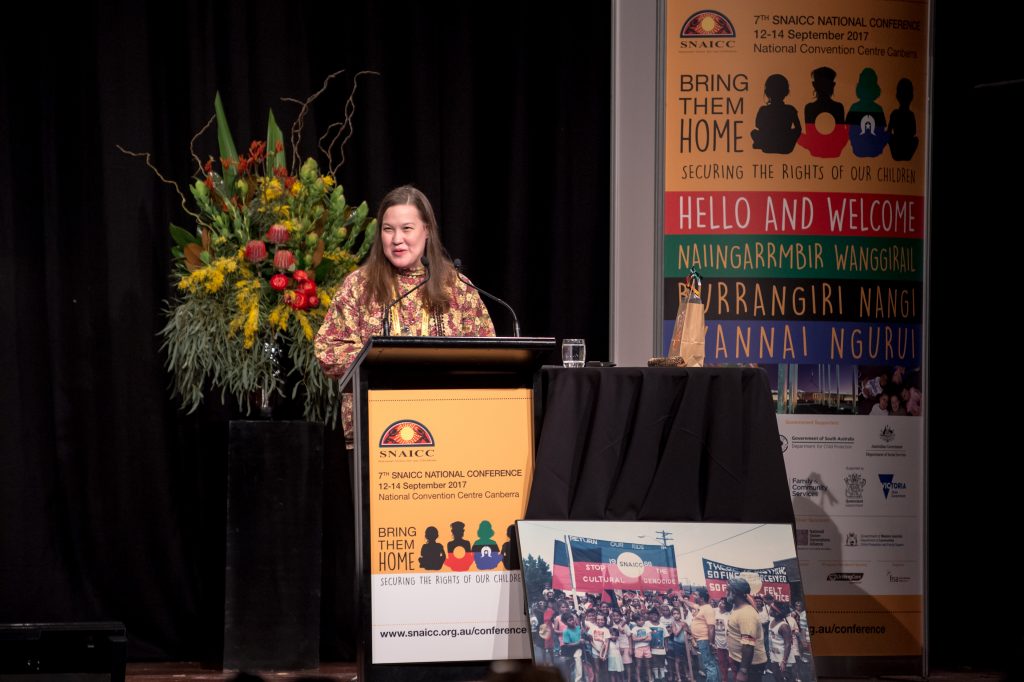 From here delegates jumped between over 30 concurrent sessions held throughout the morning and afternoon, as experts from services and communities around the country provided insights into the challenges they face in their work, and the positive impact they are making in the lives of our children.
In line with the conference theme, focusing on the Bringing them Home report, many of the afternoon sessions focused on redressing the causes of child removal, as well as addressing the lasting consequences of intergenerational trauma.
The words of Eunice Bartlett, member of the Stolen Generation and representative of Aboriginal Family Support Services South Australia, expressed the strength and determination Aboriginal and Torres Strait Islander people everywhere.
My connection was stolen years ago, so I worked on stealing it back."

– Eunice Bartlett
Dr Jackie Huggins, co-chair of the National Congress of Australia's First Peoples, highlighted how removals of Aboriginal and Torres Strait Islander children have increased drastically since the time of the Bringing Them Home report in 1992.
Dr Huggins described how consecutive governments had ignored the recommendations from the report and refused to listen to communities.
Self-determination is they key to closing the gap."

"If you don't co-design with Aboriginal people, you are doomed to fail."

– Dr Jackie Huggins
In the same session, Grandmothers Against Removal also emphasised the lack of change or follow through in the twenty years since the Bringing them Home report due to lack of government accountability.
Sorry means you don't do it again."

– Debra Swan
Emma Beckett, SNAICC Council member and manager of Nikinpa Aboriginal Child & Family Centre, described the current number of Aboriginal and Torres Strait Islander children in out-of-home care as a national crisis.
I hope BBFs get to keep their broad range of child and family services under the new system, and not just become black child care."

– Emma Beckett
In a presentation discussing key trends in legislative change Natalie Lewis, QATSICPP CEO and SNAICC Board member, highlighted the lack of consideration from government given to culture as a protective factor for our children.
Culture has been a secondary consideration in legislation, but legislation must recognise that culture is integral to the best interests of our children."

– Natalie Lewis
Many sessions highlighted the difficulty of working within the mainstream early childhood system.
Wrap-around programs that are culturally safe and community controlled have been widely acknowledged as best practice in the Aboriginal and Torres Strait Islander child and family sector, yet continued advocacy is needed to secure a future for these vital services.
Throughout all sessions, there was a consistent call to recognise connection to culture as a lifelong positive influence on the development and wellbeing of Aboriginal and Torres Strait Islander children and young people.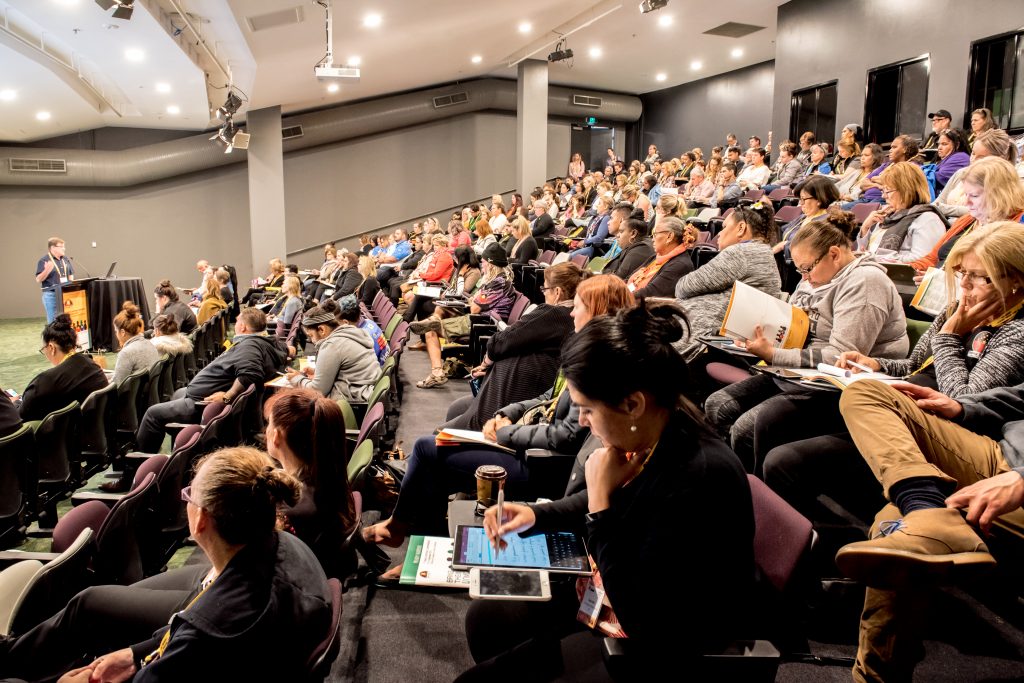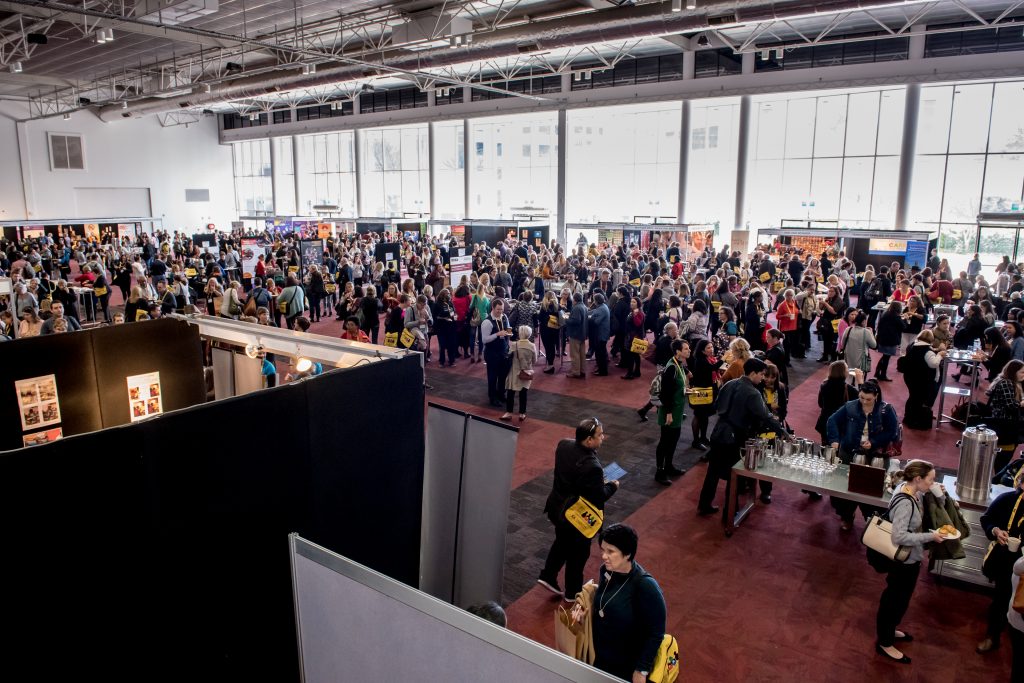 A welcome reception was held following the concurrent sessions, offering further opportunities for all attendees to network, share their experiences, and discuss outcomes of the conversations had in sessions throughout the day.
The conference will continue for a further two days, with further keynote presentations and concurrent sessions to foster more of these important discussions.