Melbourne, Australia: SNAICC is delighted to announce the theme for National Aboriginal and Torres Strait Islander Children's Day for 2018 is SNAICC – Celebrating Our Children for 30 Years.
Our children are the youngest people from the longest living culture in the world, with rich traditions, lore and customs that have been passed down from generation to generation. Our children are growing up strong with connection to family, community and country. Our children are the centre of our families and the heart of our communities. They are our future and the carriers of our story.
This year, we invite communities to take a walk down memory lane, as we revisit some of the highlights of the last 30 years. We look back on the empowering protest movements instigated by community that had led to the establishment of the first Children's Day on 4 August 1988. We look back at all of the amazing moments we've shared with our children over the years, and how we're watching them grow into leaders. We look back to see what we've achieved, and decide where we want to go from here to create a better future for our children. If you have celebrated Children's Day at any time during the past 30 years, we would love to hear from you.
How to get involved
Children's Day is a celebration and provides us with an opportunity to bring our communities and workplaces together to acknowledge our children and their cultures.
Here are some ideas about how you can celebrate Children's Day:
Host a morning tea at your school, workplace or community hall
Host a BBQ or luncheon
Invite an Elder or a community representative to talk about Children's Day
Run an arts and craft session
Organise a concert
Hold a sporting day
Hold a flag raising ceremony
Children's Day bags
To help celebrate National Aboriginal and Torres Strait Islander Children's Day in 2018, SNAICC has produced a fantastic resource bag for children at your event!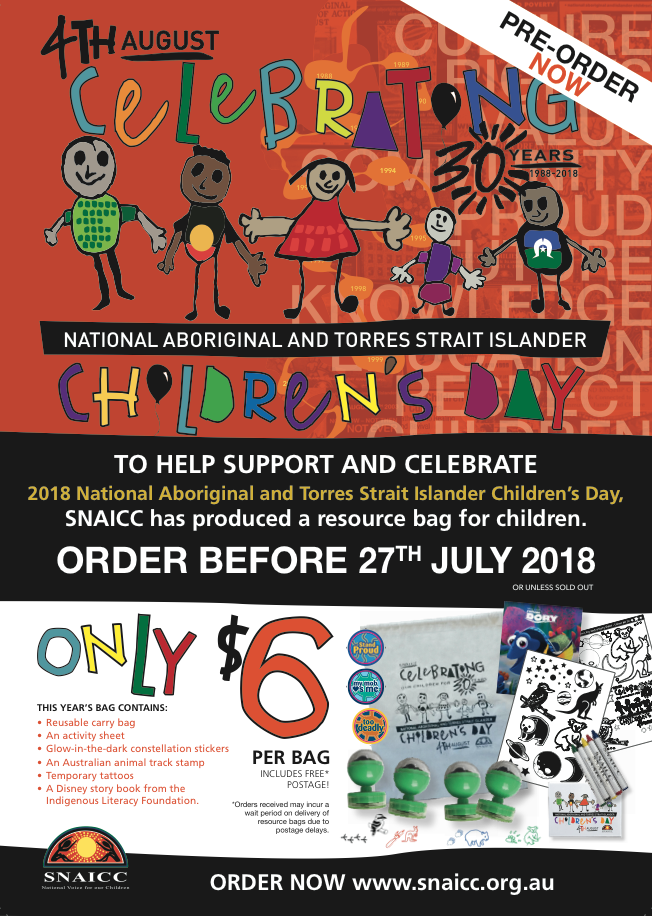 This year's bag contains:
Reusable carry bag
An activity sheet
Glow-in-the-dark constellation stickers
Australian animal track stamps
Temporary tattoos
A Disney story book from the Indigenous Literacy Foundation
Please keep an eye out for the latest Children's Day news on our website. There you can download your Celebration Kit for 2018, order your FREE Children's Day poster, buy your Children's Day 2018 resource bags, and register your event at: www.aboriginalchildrensday.com.au.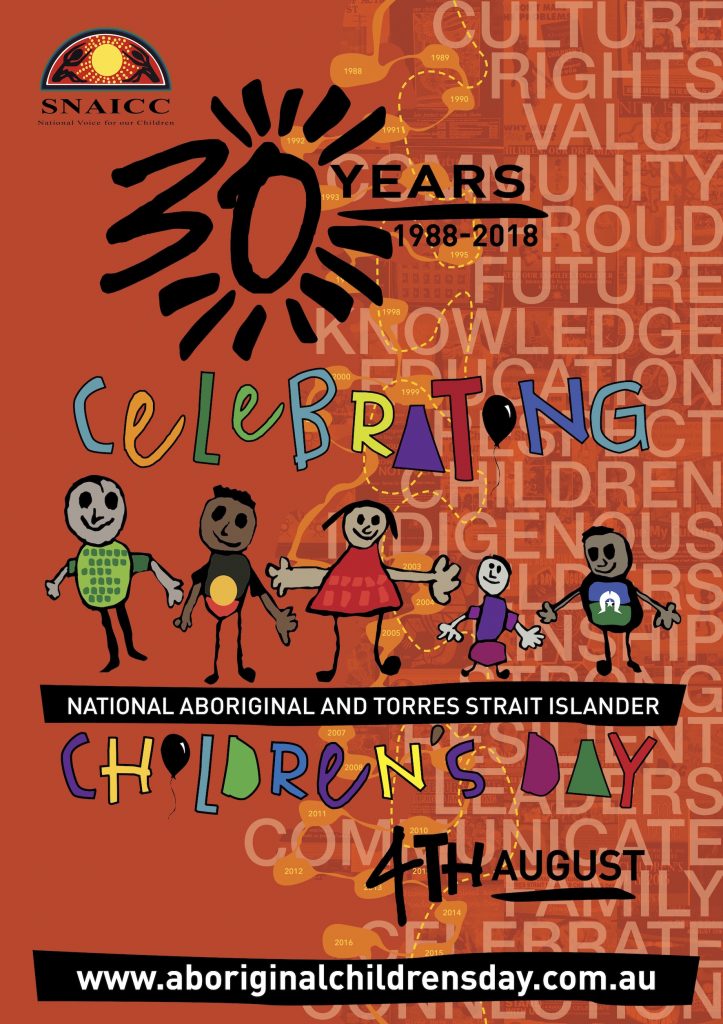 For more information please visit www.aboriginalchildrensday.com.au or contact: Maylene Slater-Burns, Children's Day Coordinator maylene.slater-burns@snaicc.org.au (03) 9489 8099.