SNAICC and the Noongar Family Safety and Wellbeing Council have called for amendments to strengthen requirements for Aboriginal family and community participation in decision-making, in the Children and Community Services Amendment Bill 2019 (WA). We made a submission to the recent Standing Committee on Legislation inquiry into the Bill.
Despite the recommendations of that inquiry, many much needed legislative changes for our children are not being progressed.
Support our Open Letter to the WA Government's Minister for Child Protection calling for urgent consideration of these vital legislative changes before the Bill is due to be voted on in the Legislative Council in the coming days.
Read the letter and show your support by completing the form below.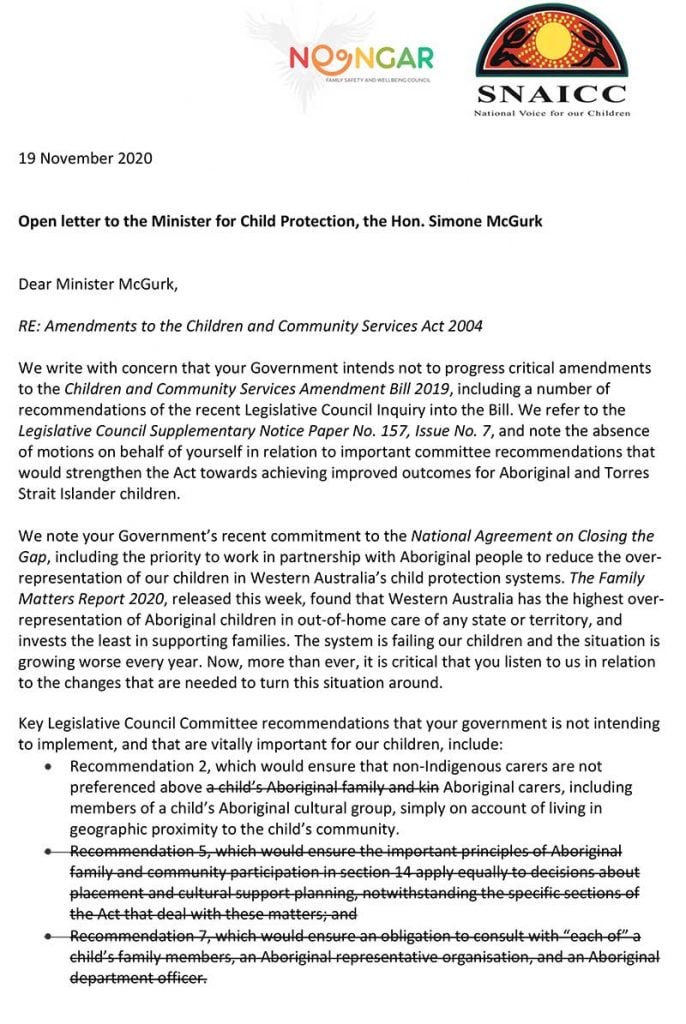 Update 23 November 2020: The above amendments have been made in response to the WA Government recently confirming an intention to support Recommendations 5 and 7.
Update 25 November 2020: The change to the first dot point in the letter was made as the statement was not accurate to recognise that family placements are the first option in the placement hierarchy in the Children and Community Services Act 2004 (WA), section 12. We regret any confusion this error may have caused.
Support our open letter to WA Government
Thank you for your support!
Your voice is making a difference for our children and families.