Following the success of SNAICC's Aboriginal and Torres Strait Islander Family-led Decision Making Train the Trainer workshop at State Library of Queensland last December, organisations are receiving training resources (electronic and hard copy) to support ongoing training.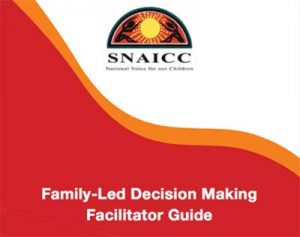 Participating organisations receive a Family-led Decision Making Facilitator Guide incorporating planning and facilitation tips and tools, as well as sessions plans, PowerPoint slides, facilitator notes, handouts and activities for five training modules.
Training resources aim to prepare workers to feel confident and capable in new family-led decision making roles following the start up of Family Participation Programs in late 2018. All training conducted in 2018 on family-led decision making, as well as the training resources, were funded by Queensland Department of Child Safety, Youth and Women and compiled by SNAICC with support of AbSec and QATSICPP.
Organisations are encouraged to tailor training to suit their teams and communities, including highlighting specific components at team meetings, running a series of short sessions over a period of time, or hosting community and networking information sessions to raise awareness of family-led decision making processes. Each training module has key learning objectives and messages to assist the sector to develop consistency in how family-led decision making is implemented across the state.