31 August 2015 | General Interest
"We believe our communities, our families, and our cultures hold the answers, the capacity, and the deep commitment to lead and improve outcomes for our young children."
SNAICC Deputy Chairperson Sue Anne Hunter has delivered a keynote presentation at The First 1000 Days Symposium, a discussion on the research project being developed by Onemda VicHealth Koori Health Group.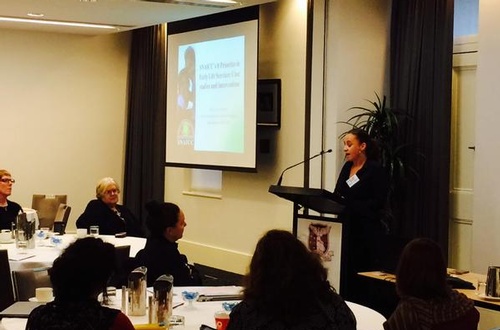 The First 1000 Days aims to provide a coordinated, comprehensive intervention to address the needs of Aboriginal and Torres Strait Islander children from conception to two years of age, laying the foundation for their future health and wellbeing.
Held at Melbourne University's Graduate House, and hosted by the Onemda VicHealth Group, Indigenous Health Equity Unit, the symposium featured a strong program, headed by Ms Hunter's presentation on SNAICC's 8 Priorities in Early Life Services, Case Studies and Interventions.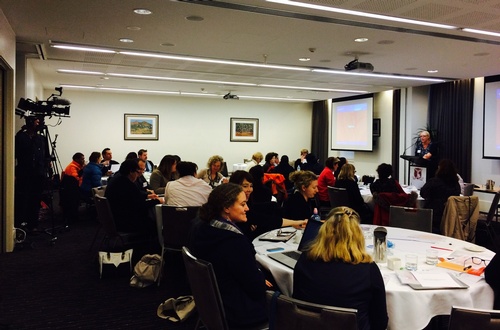 Ms Hunter told the forum that although most of our children have a rich, full, loving start to life, SNAICC exists because we know that our children too often end those first 1000 days far too far behind. Data from the Australian Early Development Census shows that our young children are twice as developmentally vulnerable as non-Indigenous children, but despite this, they're only accessing early learning and care services at nearly half the rate.
SNAICC's experience has been that where community organisations are supported and grown, they serve as community development engines for their communities, creating employment opportunities, a representative voice, culturally strong practice, and – very importantly – engaging Aboriginal and Torres Strait Islander families with service supports addressing the huge gap we all know exists around service engagement.
SNAICC's work is informed and driven by a framework of 8 national priorities that were agreed by Aboriginal and Torres Strait Islander children and family services leaders, and that are about taking a unique cultural approach to working with our children and families.
Support families to care for children
Aboriginal and Torres Strait Islander families and communities have successfully provided love and care for their children, growing them up strong and safe in their cultural traditions for many thousands of years. These traditions have endured and remain the dominant paradigm in community and cultural care for children. The cultural strengths of Aboriginal and Torres Strait Islander child rearing practices contribute to create safe and nurturing environments for children – indeed, the literature has clearly recognised the value of Indigenous kin and community systems that provide holistic care for children. So, while communities face many challenges, they also have a wealth of knowledge and resources to bring kids up safe and strong – services are needed to support families to build on that base of strength if we are to overcome the gross over-representation of our children in child protection systems.
Value and respect Aboriginal and Torres Strait Islander culture
Cultural identity and connection to family, community and country/land are the birth right of every Aboriginal and Torres Strait Islander child and what they need to prosper. Aboriginal and Torres Strait Islander children will grow, learn and excel when their cultural needs are met, valued and respected at home, school, child care and throughout all aspects of their lives.
Healing and reparation for the Stolen Generations
Risk factors for child development, neglect and abuse have inter-generational causes linked to the breakdown of cultural and community connectedness and identity that has resulted from the Stolen Generations and other negative impacts of colonisation and government policy. Prevention of harm in this context must seek to intervene in inter-generational cycles of harm by healing, strengthening and re-connecting families and communities.
Self determination in child protection
Self-determination in child protection is an international human right and the means for the best decision-making. Aboriginal and Torres Strait Islander communities have the knowledge and understanding of the context, the families and the needs of children, and are best placed to make informed decisions about their safety, wellbeing and protection needs. Decision makers in child protection need strong trusting relationships with families and communities to ensure that decisions are well informed. Community based and led models of child protection offer the best option for protecting children.
Thrive by five with cultural alive
A confident ready-to-learn Aboriginal or Torres Strait Islander child is one who is healthy, has strong family bonds, who knows and is proud of her culture, and who has participated in a quality early learning program. The first phase of life needs to be an intensive focus of supports. We get it right in these years and we see different pathways for our children.
Real results take real planning
We need our own long-term visions, strategies and plans in place to chart our way forward as Aboriginal peoples. We also need to be part of Government processes. Plans to improve outcomes for our children will only work if they are developed in consultation with Aboriginal and Torres Strait Islander peoples.
Building capacity builds community
The role of governments is to support and sustain the ability of Aboriginal and Torres Strait Islander individuals and organizations to work in a culturally sound way that will improve people's health and education, strengthen families, improve connections to culture and build strong Aboriginal and Torres Strait Islander communities. We need to move beyond short term programmatic approaches that too often overlook Indigenous strengths and preference mainstream service qualities. National Government reports have themselves confirmed that building the capacity of Indigenous organisations is not only important for effective service delivery, but an important policy objective in its own right in so far as it promotes governance, leadership and economic participation, building social capital for Aboriginal and Torres Strait Islander peoples. Governments need to work more flexibly and supportively with our agencies across all areas of the community sector. Rather than governments prescribing what local agencies do they should support them to meet local needs.
Hope, wealth and prosperity for our children
All Aboriginal and Torres Strait Islander children, wherever they live, should enjoy a childhood that encourages them to aim high and explore all of life's opportunities.  They should be encouraged to dream, like other kids, of a happy and prosperous life and supported to realise their dreams – this will enable our children to share in and contribute to the prosperity of their nation.
To learn more about the First 1000 Days research project visit the Onemda website.