Keynote Speakers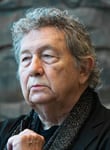 Michael J. Chandler, PhD
Professor Emeritus
The University of British Columbia, Vancouver, Canada
Professor Chandler is a developmental psychologist, Professor Emeritus, and Distinguished CIHR and MSFHR Investigator working in the Department of Psychology at the University of British Columbia, Vancouver. His research interests include socio-cognitive development, young people's developing 'theories-of-mind' and the cross-cultural study of the process of identity formation. His ongoing program of research explores the role that culture plays in setting the course of identity development by shaping young people's emerging sense of ownership of their personal and cultural past, and their commitment to their own and their community's future wellbeing. He is deeply involved in the study of Canada's Aboriginal youth, and how their struggles to achieve a sense of coherent personal and cultural identity impact on a range of health outcomes and other measures of socio-emotional wellbeing. In particular, he has studied the phenomena of youth suicide as it manifests itself in Canada's First Nations youth, and (internationally) among other Indigenous groups.
In a long series of published research findings (e.g., Chandler & Lalonde, 1998; Chandler & Lalonde, 2008) his work has made it clear that: young persons who lose a sense of their own personal and cultural continuity are at special risk to suicide, and a host of other negative outcomes; and b) that whole communities (especially Aboriginal communities that have suffered a loss of connectedness to their cultural past and civic control over their future) are especially vulnerable to a long list of negative social outcomes, including high suicide, accident, and school drop-out rates. Altogether, this collection of findings help to demonstrate that achieving a sense of both personal and cultural persistence in time is key to Indigenous peoples' future health and wellbeing.
These efforts, along with more than 150 published books, articles and book chapters, have earned Dr. Chandler the Killam Memorial Senior Research Prize, the Killam Teaching Prize, and resulted in his twice being appointed a Peter Wall Institute Distinguished Scholar in Residence. His research and scholarly efforts have also led to his being named Canada's only Distinguished Investigator of both the Canadian Institutes of Health Research (CIHR) and the Michael Smith Foundation for Health Research, and resulted in his being chosen as a member of the Advisory Board of CIHR's Institute of Aboriginal Health. Dr. Chandler's research with children at risk began more than 35 years ago with an article (co-authored with A. Sameroff) that was selected by the Society for Research in Child Development for inclusion in a book entitled Twenty Studies That Revolutionized Child Psychology. Professor Chandler's program of research dealing with identity development and suicide in Aboriginal communities was singled out for publication as a book and as an invited Monograph of the Society for Research in Child Development, and is the only program of Canadian research featured in WHO's recently released report on the social determinants of health.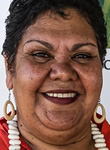 June Oscar
Chief Executive Officer
Marninwarntikura Women's Resource Centre, Fitzroy Crossing, Western Australia
June Oscar is Chief Executive Officer of Marninwarntikura Women's Resource Centre and a proud Bunuba woman from the remote town of Fitzroy Crossing. She is a Bunuba language speaker and is considered one of the most outstanding Aboriginal leaders in the Fitzroy Valley, and across Australia. She is a strong advocate and activist for Indigenous Australian languages, social justice, women's issues, and FASD. Her courage and determination to address the most complex and sensitive issues affecting the lives of Aboriginal Australians is inspirational. She does this with little regard for the immense personal toll that such actions necessitate. Her focus on Aboriginal children, and her determination that we do not sacrifice the health of our children for the so-called 'right' to buy full strength take-away alcohol, makes her a role model for all Australia.
In 2011, in an article appearing in The Age and Sydney Morning Herald (Weekend Magazines), June was named as one of the 50 most influential women in the world for her work in improving the lives of those living in remote Aboriginal communities. June has previously held the positions of Deputy Director of the Kimberley Land Council and the first woman to chair the Marra Worra Worra Resource Agency (Fitzroy Crossing). She is a Director on the Boards of Bunuba Films Pty Ltd, Bunuba Pty Ltd and is currently the Chairperson of the Bunuba Cattle Company Pty Ltd. She is the former chair of the Kimberley Language Resource Centre and the Kimberley Interpreting Service. In 1990 June was an appointment of the Federal Government to the Aboriginal and Torres Strait Islander Commission. She has a Bachelor's Degree in Business from the University of Notre Dame, Broome, Western Australia, and is currently writing her Master's thesis. June is a co-founder of the Yiramalay Wesley Studio School and is a Community member of the Fitzroy Valley Futures Governing Committee.
In 2012 June was appointed as an Ambassador for Children and Young People by the Western Australian Commissioner for Children and Young People, Michelle Scott. June is a Chief Investigator on the Lililwan Project. In June of 2013 June was awarded an Order of Australia. June was the winner of the Westpac and Financial Review 100 Women of Influence 2013 for Social Enterprise and Not for Profit Category. In 2014 June was awarded the Menzies School of Health Research Medallion for her work with Foetal Alcohol Spectrum Disorder.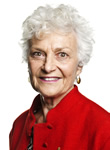 Professor Fiona Stanley, AC FAA FASSA
Patron, Telethon Kids Institute
Distinguished Research Professor, The University of Western Australia
Vice Chancellor's Fellow, The University of Melbourne
Fiona Stanley AC, FAA, FASSA is the Founding Director and Patron of the Telethon Kids Institute (formerly Telethon Institute for Child Health Research), Distinguished Research Professor at the University of Western Australia and Vice Chancellor's Fellow at the University of Melbourne where she was Director, 2013 Festival of Ideas.
Trained in maternal and child health, epidemiology and public health, Professor Stanley has spent her career researching the causes of major childhood illnesses such as birth defects. Her research includes the gathering and analysis of population data for epidemiological and public health research; the causes and prevention of birth defects and major neurological disorders, particularly the cerebral palsies; patterns of maternal and child health in Aboriginal and Caucasian populations; various ways of determining the developmental origins of health and disease; collaborations to link research, policy and practice; and strategies to enhance health and well-being in populations. She pioneered the development, linkage and analysis of population level data and record linkage in Western Australia as a research and evaluation capacity.
Her major contribution has been to establish the Telethon Kids Institute, a unique multidisciplinary independent research institute focussing on the causes and prevention of major problems affecting children and youth and to establish the Australian Research Alliance for Children and Youth. She has over 300 publications, books and book chapters and is a board member of the Australian Broadcasting Corporation, a former member of the Prime Minister's Science, Engineering and Innovation Council, and has served on major international, national and local committees. For her research on behalf of Australia's children and Aboriginal social justice, she was named Australian of the Year in 2003 and in 2006 she was made a UNICEF Australia Ambassador for Early Childhood Development.
Keynote Plenary Panelists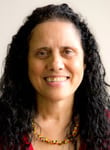 Adjunct Professor Muriel Bamblett AM
Chief Executive Officer, Victorian Aboriginal Child Care Agency
Muriel Bamblett is a Yorta Yorta and Dja Dja Wurrung woman who has been employed as the Chief Executive Officer of the Victorian Aboriginal Child Care Agency since 1999. Muriel was Chairperson of the Secretariat of National Aboriginal and Islander Child Care for 10 years (the peak agency representing Indigenous Child and Family Services nationally). Muriel is active on many boards and committees concerning children, families and the Indigenous community, including the Victorian Children's Council; Our Watch (the Foundation to Prevent Violence Against Women and Children); the Australian Institute of Family Studies Advisory Council; the Aboriginal Justice Forum and the Aboriginal Community Elders Service.
Muriel has been the recipient of a number of awards, including the Centenary of Federation Medal; the 2003 Robin Clark Memorial Award for Inspirational Leadership in the Field of Child and Family Welfare; the Women's Electoral Lobby Inaugural Vida Goldstein Award; and an AM in the 2004 Australia Day Honours for her services to the community, particularly through leadership in the provision of services for Aboriginal and Torres Strait Islander children and families. In 2009 Muriel was appointed an Adjunct Professor at LaTrobe University's School of Social Work and Social Policy.
Muriel was inducted into the Victorian Honour Roll of Women in 2011 and was a finalist for a Human Rights Medal with the Australian Human Rights Commission.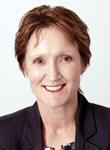 Kay Benham
Acting Director General
Department for Child Protection and Family Support
Kay Benham is currently the Acting Director General of the Department for Child Protection and Family Support. She has worked in a variety of positions in the public sector for over twenty years, including managing victim support, child witness and family violence services before returning in 2010 to take up her substantive position as Executive Director Policy and Learning in the Department where she began her career in child protection.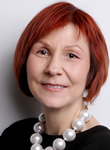 Cindy Blackstock, PhD
Executive Director, First Nations Child and Family Caring Society of Canada
Associate Professor, University of Alberta
Director, FNCARES
A member of the Gitksan First Nation, Cindy has 25 years of social work experience in child protection and Indigenous children's rights. As Director of the First Nations Children's Action Research and Education Service (FNCARES) at the University of Alberta, her research interests are Indigenous theory and the identification and remediation of structural inequalities affecting First Nations children, youth and families.
Cindy's promotion of culturally based and evidence informed solutions has been recognized by the Nobel Women's Initiative, the Aboriginal Achievement Foundation, Frontline Defenders and many others.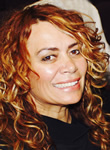 Antoinette Braybrook
Chief Executive Officer
Aboriginal Family Violence Prevention & Legal Service Victoria (FVPLS Victoria)
Antoinette Braybrook is CEO of Aboriginal Family Violence Prevention and Legal Service (FVPLS) Victoria since its' inception. She is National Convenor National FVPLS Forum, delivering FVPLS Program to Aboriginal and Torres Strait Islander victims/survivors of family violence and sexual assault.
An Aboriginal woman born in Victoria on Wurundjeri country, Antoinette's grandfather and mother's line is through Kuku Yalanji, North Queensland. Antoinette graduated Deakin University with a Bachelor of Laws and admitted as legal practitioner in 2004.
Antoinette was awarded 2015 LIV's: Access to Justice/Pro Bono award and ACCW's 2015 Sustaining Women's Empowerment in Communities and Organisations Award.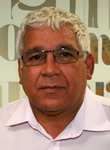 Mick Gooda
Aboriginal and Torres Strait Islander Social Justice Commissioner
Mick Gooda is a descendent of the Gangulu people of central Queensland and is the current Aboriginal and Torres Strait Islander Social Justice Commissioner. His term in this position commenced in February 2010.
Mick has a long experience in Aboriginal and Torres Strait Islander affairs, having worked remote, rural and urban environments throughout Australia for over 30 years. He has a strong record of achievement in implementing program and organisational reform and delivering strategic and sustainable results across the country.
As Commissioner, Mick builds on this experience to advocate the human rights of Aboriginal and Torres Strait Islander peoples in Australia and then promote respect and understanding of these rights among the broader Australian community.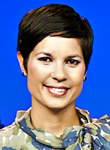 Narelda Jacobs
Journalist & Presenter, Ten Eyewitness News
Facilitator – Plenary Panel Discussion: Family Matters – Kids Safe in Culture, Not in Care
Narelda Jacobs has been a journalist at Network Ten for 15 years and is the presenter of Perth's Ten Eyewitness News at 5.
Narelda loves her home town of Perth, with the world's warmest people and best lifestyle. Her on air profile has given Narelda the opportunity to get involved in countless community events.
Narelda's a patron of the Motor Neurone Disease Assoc WA. She's an Ambassador for the David Wirrpanda Foundation, Breast Cancer Care WA & the Disability Services Commission. In 2011 she was 1 of 13 WA women who trekked Kokoda to raise money for Breast Cancer Care WA.
She's MC'd high profile events in Perth, sharing the stage with the Prime Ministers, international business leaders and humanitarian advocates.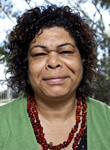 Andrea Mason
Co-ordinator, NPY Women's Council, Alice Springs
Andrea commenced employment with Ngaanyatjarra Pitjantjatjara Yankunytjatjara (NPY) Women's Council in July 2008, in 2010 she was appointed Chief Executive Officer.
Andrea's relationship to the NPY Lands is strong both professionally and personally. Her mother's people are Karonie people in WA and her father is Ngaanyatjarra. The NPY region covers approximately 350square kilometers in the cross border region of WA, SA and the NT.
Her career prior to joining the Council in 2008, tells the story of the areas she has had long term interest in: reconciliation, Aboriginal employment and development, Indigenous governance, social policy and public administration. Andrea had close to a fifteen year career working in the South Australian and Australian public services. During these years, she worked in housing and employment services and initiatives, and in policy areas that aimed to increase community engagement in Aboriginal communities and also build the leadership of Indigenous women.
Andrea enjoys working with and alongside people who have a passion to support people to find and implement solutions. In the early 1990s she worked as a Community Manager in a SA Government project which endeavoured to secure the 1998 Commonwealth Games for Adelaide, and she has also worked for Reconciliation Australia as a Relationships Manager in a Reconciliation Action Plan project that focuses on encouraging Australian workplaces to increase their engagement with Aboriginal and Torres Strait Islander peoples.
Since taking on the role as Chief Executive Officer, she has seen the impact domestic and family violence in the lives of babies, children, teenagers, adults, families, communities, regions and workplaces. Reducing significantly the violence in NPY communities she believes will give the region its single biggest empowerment vehicle to drive further change.
She holds Degree in Laws and in Aboriginal Affairs and Public Administration.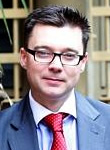 Matthew Myers AM
Judge, Federal Circuit Court of Australia
Newcastle Registry
His Honour Judge Matthew Myers AM was appointed to the Federal Circuit Court of Australia in 2011 and is Australia's first and only Indigenous Commonwealth judicial officer.
Judge Myers holds a Bachelor of Arts, a Bachelor of Laws from the University of New South Wales, a Master of Applied Law (Family Law) from the College of Law and a Vocational Graduate Diploma of Family Dispute Resolution from Bond University.
Prior to his appointment, Judge Myers undertook work as a Notary Public, Accredited Collaborative Family Lawyer and as an Accredited Family Law Specialist with separate accreditation in New South Wales, Victoria and Queensland. Judge Myers had additionally worked in the area of family law mediation both as a Nationally Accredited Mediator and as an Accredited Family Dispute Resolution Practitioner.
Judge Myers was awarded the NSW Law Society President's medal in 2011 and received the award of Member of the Order of Australia in the Queen's Birthday Honours list in 2013 for services to the community in the area of welfare and Family Law.
Program
Workshops
Pre-Conference Masterclasses
Monday 14 September 2015
2.00pm – 5.00pm
Perth Convention and Exhibition Centre
Pre-Conference Masterclass A: Exploring Community Control and Working Effectively for Outcomes in Changing Communities and Times
Professor Michael Chandler
Professor Emeritus
The University of British Columbia, Vancouver, Canada
This workshop will provide the opportunity to participate and explore Professor Chandler's work on:
Community control and "neo-liberal" (i.e., conservative) politics;
On working out what constitutes community control in Aboriginal health and wellbeing;
Aggregating and disaggregating Aboriginal health data – cultural diversity and the bid for nation-wide descriptors of Aboriginal health;
The down-side of economic advances in Aboriginal communities; and
The dangers of talk about resiliency.
Pre-Conference Masterclass B: Healing – Intergenerational Trauma. Young and Old, Connecting Generations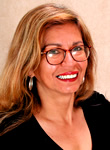 Professor Pat Dudgeon
Research Fellow
School of Indigenous Studies
The University of Western Australia, WA
Professor Pat Dudgeon is from the Bardi people of the Kimberly area in Western Australia. She is a Psychologist and Research Fellow at the School of Indigenous Studies at the University of Western Australia. Her area of research includes social and emotional wellbeing and suicide prevention. Amongst her many commitments, she is a Commissioner of the Australian National Mental Health Commission, on the executive board of the Australian Indigenous Psychologist's Association, and co-chair of the Commonwealth Aboriginal Torres Strait Islander Mental Health and Suicide Prevention Advisory Group. She is currently the project leader of the National Empowerment Project: an Indigenous suicide prevention project working with eleven sites in Aboriginal communities across the country. She has many publications in Indigenous mental health in particular, the Working Together Aboriginal and Torres Strait Islander Mental Health and Wellbeing Principals and Practice 2014. She is actively involved with the Aboriginal community and has a commitment to social justice for Indigenous people.
Tjalaminu Mia
Executive Project Manager
Sister Kate's Home Kids Foundation
Tjalaminu Mia is a Menang/Goren Nyoongar woman from the Great Southern region, south-west WA.
She is an accomplished writer and co-author of several major oral history publications including Speaking from the Heart and Heartsick for Country. She also was part of the WAARDA Early Children's Reader Series with her granddaughter writing Bush Secrets and Summer Holidays.
Tjalaminu has worked closely with the Sister Kates Stolen Generations and Aboriginal families in the metro area and in regional Western Australia delivering cultural healing, empowerment and leadership programs. She is currently working with the Sister Kates Home Kids Trust and Aboriginal Corporation to build a healing and remembrance centre adjacent to the old Home site in Queens Park.
Tjalaminu was awarded the Community Person of the Year WA NAIDOC Award in 2012, in recognition for her tireless work over the past 38 years for the human rights of collective Aboriginal peoples, and has held various positions in community controlled organisations, mainstream advocacy agencies and government.
Kathy Mokaraka
Administration and Healing Advisor
Sister Kate's Home Kids Foundation
Kathy is a Nyoongar Yok (Aboriginal woman from the South West of Western Australia) belonging to the Yued, Ballardong, Wagyl Kaip & Southern Noongar and Wadjuk Groups.
Kathy started her career in trauma and healing in the remote areas of Western Australia's Kimberley region over 20 years ago. She has dedicated her entire working life to this area, working within an Aboriginal term of reference which acknowledges the 'trauma' of Aboriginal people in Australia, stemming from the devastating impact of colonisation. The damage still reverberates today with high levels of incarceration, grinding poverty, addictions and violence, loss of family through the Stolen Generations era, disruption to culture and lands, low education and employment and most importantly approximately 20 years less life expectancy to non-Aboriginal people, known as 'The Gap'.
She has worked in specific areas for her people in child sexual abuse/assault, suicide, critical incidence, women in prison, mental health and trauma.
She holds a Masters in Indigenous Therapies (Southern Cross University, Australia) and a Master's Certificate in Global Mental Health Trauma and Recovery (Harvard University and Ministry of Italy).
She has received Alumnus of the Year – Gnibi College Southern Cross University (2011) and Outstanding Alumnus of the Year Southern Cross University (2011). Recently Kathy was nominated for 20 year Outstanding Alumnus Southern Cross University (2014) and was a finalist.
Currently Kathy works for the Secretariat of the Sister Kate's Home Kids Foundation and is inspired by the Sister Kate's goal of building a Healing Centre for ex-Homies, their descendants and other Stolen Generations.
Although she humbly acknowledges her professional achievements, she believes her greatest achievement has been raising 3 children to become strong and independent people. She also has 6 grandchildren who are her source of 'joy' and 'strength', and hopes that within her own family, the trans/inter-generational cycle of trauma has been broken.
Healing – Intergenerational Trauma Masterclass – Shadow on a Life: Between Two Worlds
One of the big questions posed today by our collective Aboriginal Elders is: "How do we shed light on the lives of our people so they feel a sense of hope and can look forward to a more positive future, especially for our children and youth and those of the Stolen Generations."
The impact of the 1905 Aborigines Act, the Assimilation Policies, disconnection from families, culture and country, and all that represents Colonial Oppression (Acculturation) has played a major role in the inter-generational trauma experienced by all Aboriginal people in the past as well as the present. The workshop will look at the nature of intergenerational trauma and finding a way forward that enables healing to occur at a deeper level for Aboriginal families. We will look at how healing is a catalyst to empowerment, self-determination and cultural social and emotional wellbeing.
Master Class Workshop participants will be offered an opportunity to hear what the Sister Kate's Home Kids Foundation Trust and the Sister Kate's Home Kids themselves as Stolen Generation survivors are collectively doing for their own healing and the healing of their families – as well as working in Joint Partnership to build a Healing Centre of Excellence that will provide a wide range of healing and empowerment initiatives at the local, regional, national and international level.
The workshop will also consist of sharing across boarders within professional areas of service provision and an opportunity to workshop individual and collective ideas that are based within cultural, social, environmental and human rights support advocacies.
Participants will work in groups to discuss innovative and creative ways of addressing current programs and on conclusion of the class, will present their findings.
Social Program
Welcome Reception
Date: Tuesday 15 September 2015
Time: 5.00pm – 7.00pm
Venue: BelleVue Ballroom, Perth Convention and Exhibition Centre
Cost: Inclusive for full Delegates
Additional Tickets: $77
The Welcome Reception will take place after sessions on day one of the Conference. This function will provide delegates with the perfect networking opportunity to gain new contacts within the sector, and rekindle old acquaintances.
Wednesday Evening
7.00pm – 10.00pm
PLEASE NOTE: Additional registration fee required for these functions. Places are limited and will be allocated as payment is received.
Fraser's Dinner and Show at Kings Park
Venue: Fraser's State Reception Centre, Kings Park
Cost: $150
Dress: Neat Casual
Includes transfers to and from the Perth Convention and Exhibition Centre, a three course dinner, entertainment and drinks (sparkling, wine, beer and soft drinks).
Be wined and dined at arguably one of Perth's finest venues situated in the beautiful environs of Kings Park, whilst being entertained by Australia's premier Indigenous Motown tribute act, the 'Merindas'. The dinner will be held in the State Reception Centre located at the top of the Kings Park complex, high in the gum trees with a stunning view over the city and river.
Merindas name comes from the Aboriginal Eora language – meaning beautiful woman and is a tribute to their Indigenous heritage. But there is far more to this very talented group than just their name. Candice, Kristel and Rhiannon are amazing performers whose stars are on the rise as they send ripples across the Australia's Motown scene. In 2013 the group was nominated for a Deadly award in the category of 'Most Promising New Talent in Music'. They have supported some of Australia's biggest stars including Kasey Donovan, Christine Anu and Troy Cassar-Daley.

Limited places are available, it is recommended you book early!
OR
Aviary Evening of Entertainment
Venue: The Aviary, Level 1, 140 William Street, Perth
Cost: $75
Dress: Neat Casual
Includes finger food and entertainment. Drinks will be at bar prices.
Join us to be entertained by a showcase of some of Perth's finest performers including your host for the evening, comedian Derek Nannup, a trio from rock band the 'Bartlett Brothers', family trio 'The Gogos' and the newly formed 'Embers of Loretta'. Situated in the heart of Perth's CBD, the Aviary Bird Cage and Lounge Bar is one of Perth's hotspots to gather. With its illuminated birdcages and art deco styling it provides the perfect CBD location to relax and unwind with a drink after a long conference day.
Bartlett Brothers are an indigenous rock band from Perth that make music that touches the heart and spirit. They create rootsy pop rock sounds with soaring harmonies and a soul edge. Their music & lyrics are infused with the colours and themes of their home country and heritage.

The Gogos, a family trio brother and sister, Lilly Gogos and Stephen Gogos are joined by their father to sing golden oldie favourites with some of their originals thrown in the mix. The Gogos family are from the South West of WA – Albany and Gnowangerup; they continue to perform all around the South West and beyond.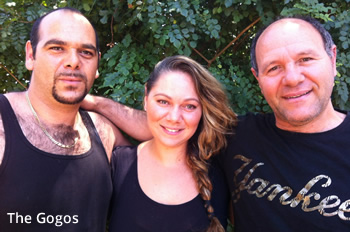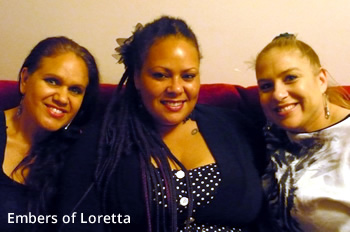 Embers of Loretta – A new trio, singing old country songs for their oldies. With Della Rae Morrison, Charley Caruso and Delta Oui, you can enjoy these beautiful songs of harmony, as you sing along and reminisce the old memories, do you remember where you were?
Optional Tours
Indigenous Walking Tour at Kings Park
Indigenous Tours WA offers fascinating walking tours at Kings Park in the heart of Perth. Kings Park and Botanic Garden is rich with Aboriginal history. This significant location features in many of the Dreamtime stories of the Wadjuk people, and Greg, your tour guide, shares a personal insight into how this has shaped his culture and belief systems. For further information visit www.indigenouswa.com.
Urban Indigenous
Urban Indigenous is committed to delivering exceptional Aboriginal experiences. The company considers itself a strong, passionate and legitimate partner for all Aboriginal people and Aboriginal private enterprise. Urban Indigenous is determined to raise the profile of Aboriginal Australia and to accelerate Reconciliation Australia. Urban Indigenous offers private tours for groups that capture the true identity of the Perth Aboriginal Community. They provide authentic Aboriginal experiences for local and intrastate corporate and government groups wishing to experience a unique day with aboriginal people, culture & community. For further information visit www.urbanindigenous.com.au.
Western Australian Aboriginal Tours
For those looking for pre or post conference tours or adventures around Western Australia we recommend visiting the Western Australian Indigenous Tourism Council's website. The website has several Aboriginal owned tourism operators that can provide you with opportunities to participate in Aboriginal experiences and culture across Western Australia. For further information visit www.waitoc.com.