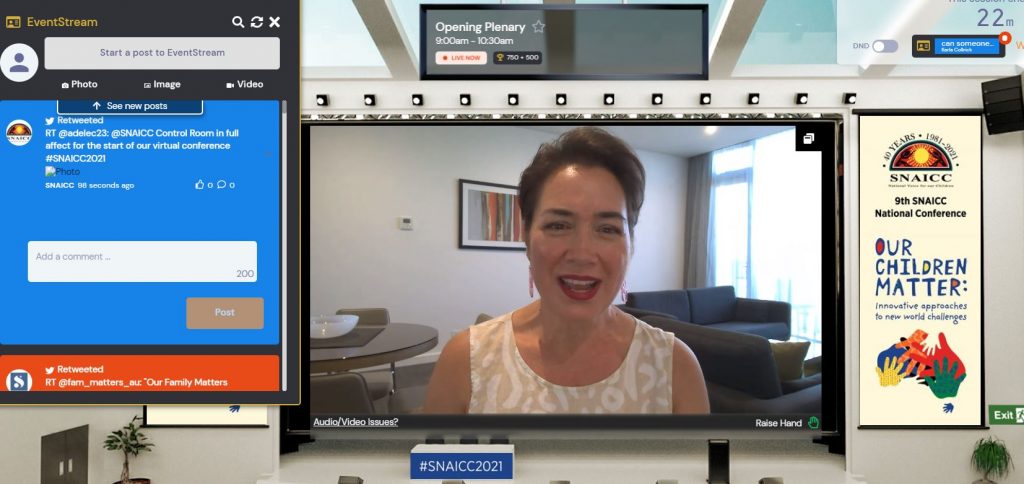 In 2021, the SNAICC National Conference diverted from tradition, hosting our first ever virtual conference in the wake of a year blighted by COVID-19.

Whilst we dearly missed the opportunity to connect in-person with our friends, our communities, and our colleagues, over 950 delegates joined us from rooms all over the country to double down on our collective efforts to celebrate and see the fulfillment of the rights of our children.
This year SNAICC – National Voice for our Children celebrated 40 years since our journey began, and did so under the theme of Our children matter: Innovative approaches to new world challenges. This theme was chosen in the context of two years of political and social landscape-shifting change in our sector. In particular, the coronavirus pandemic has had a disproportionally high impact on Aboriginal and Torres Strait Islander children and families. The conference saw representatives from Aboriginal and Torres Strait Islander community-controlled organisations across the country share stories of innovative practice that has maintained our children's connection to family, community, culture and Country during extraordinary times.
Together, the SNAICC National Conference calls for urgent and transformative change to the systems that impact our children. We call on all governments to work with us to ensure that Aboriginal and Torres Strait Islander children have every opportunity to grow up safe and cared for in their family, community, and culture, and on Country. The following actions are needed to set us on that path:
Transfer authority in child protection to our families and communities through delegated statutory authority and Aboriginal and Torres Strait Islander family-led decision-making
Invest to build the Aboriginal and Torres Strait Islander workforce that we need for our culturally strong community-controlled services
Set ambitious targets to invest in and build our community-controlled child protection and family support services, including transfer of resources from mainstream organisations
Scrap the child care activity test and develop a dedicated funding model to support and grow our community-controlled integrated early years services
Establish a national Aboriginal and Torres Strait Islander children's commissioner, and equivalent roles in each state and territory
Provide opportunities to build our own Aboriginal and Torres Strait Islander evidence base for best practice and control our own data

Conference Communiqué
---