19 February 2014 | General Interest
SNAICC was delighted to hold a Parliamentary Breakfast on 13 February 2014 – Joining the Dots to secure a better future for Aboriginal and Torres Strait Islander children  – in partnership with ECA, UNICEF and ACOSS.
We were really excited to have 10 Aboriginal and Torres Strait Islander member services from 4 states – including from Halls Creek and Fitzroy Crossing in WA, Logan in QLD, Brewarrina, Lightning Ridge, Ballina, Tamworth and Campbelltown in NSW, and Sheparton and Thomastown in Victoria)  – also travel far to join us in the breakfast and 33 meetings with Members of Parliament organised around the breakfast. Their commitment, passion, knowledge and expertise was a powerful message on the importance of these services to our children and families, and the need for ongoing support.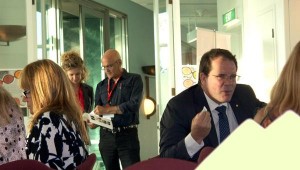 The breakfast aimed to explore the evidence of what works for disadvantaged Aboriginal and Torres Strait Islander children and families in the early years. It also hoped to raise awareness of key service groups that support the strong policy platform to Close the Gap and overcome disadvantage in the early years – Budget Based Funding Services and Aboriginal and Torres Strait Islander Child and Family Centres.
Around 73 people attended the breakfast, including Mr Alan Tudge, the Parliamentary Secretary to the Prime Minister on Indigenous affairs, Shadow Ministers Shayne Neumann, Kate Ellis and Tanya Plibersek, and many members of the new Indigenous Advisory Council.
We were very proud to have the breakfast opened by Mick Gooda, Aboriginal and Torres Strait Islander Social Justice Commissioner, and keynote given by Professor Ngiare Brown, a Yuin nation woman from the south coast of NSW, who has just been appointed as a member to the Prime Minister's Indigenous Advisory Council.
PICTURE: SNAICC Parliamentary Breakfast 2014 Mick Gooda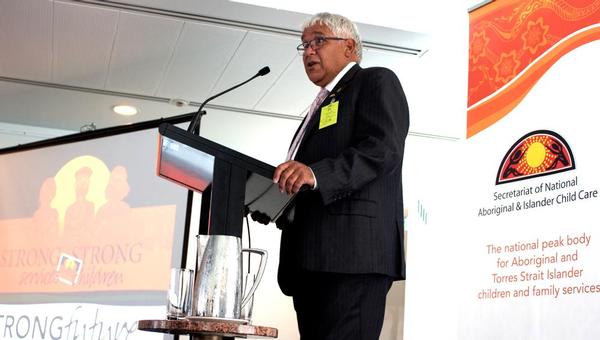 Two Aboriginal and Torres Strait Islander early childhood service leaders shared their stories: the realities they work with, the strengths and challenges they face and some of outcomes they see for families and children.  Lisa Thorpe from Bubup Wilam Early Learning and Louise Cave from Birrelee Multifunctional Aboriginal Children's Service.
Mr Alan Tudge MP also said a few words on behalf of the Prime Minister before closing, confirming the importance of the early years and commending the work of these services.
The message was loud and clear: "Get it wrong in early years, and we are struggling to catch up – invest early and save!"
At the moment, the funding for 38 Indigenous child and family services provided under one of the National Partnership Agreements will be fully cut as of June 31 2014. This needs urgent action now!
We cannot close the gap unless we invest in the early years!
Stay tuned for full report soon!