4 May 2015 | General Interest
SNAICC recently met with over 20 Australian Government Members of Parliament (MPs) to discuss the vital role of Aboriginal and Torres Strait Islander integrated early years services in supporting education and development outcomes for our children, and employment and empowerment outcomes for our communities.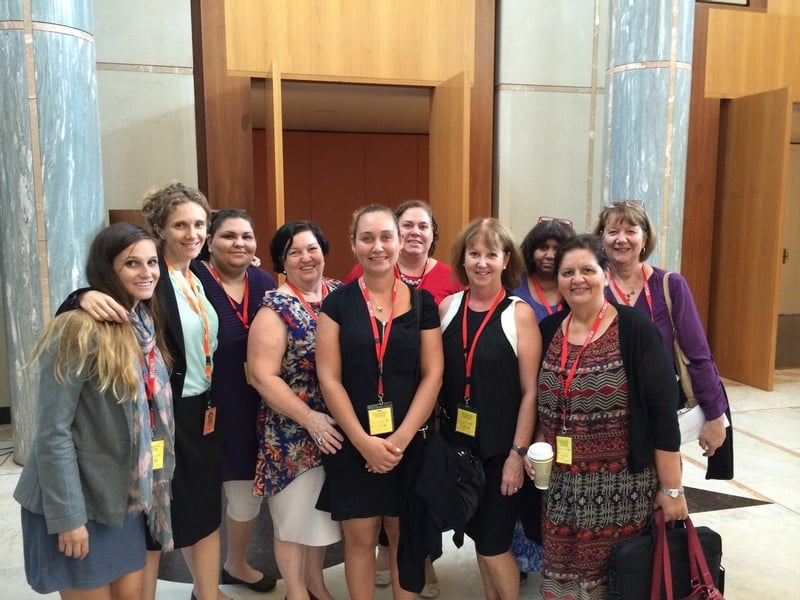 A group of SNAICC members, representing Aboriginal and Children Family Centres and Budget Based Funding program services across the country, travelled to Canberra on 23-24 March to meet with key Ministers, advisers and Coalition Government MPs. This included: Minister for Indigenous Affairs, Senator Nigel Scullion; Minister for Human Services, the Hon Marisa Payne; Assistant Minister for Health, Senator Fiona Nash; and advisers to the Hon Scott Morrison, Minister for Social Services.
The meetings were scheduled at a critical time as the Federal Government develops its Families Package, with SNAICC strongly advocating for an adequately resourced program for Aboriginal and Torres Strait Islander integrated early years services. This builds on the Community Early Learning Program recommended by the Productivity Commission in its final report on childcare and early childhood learning, which was welcomed by SNAICC when it was published in February 2015.
Many MPs had a good understanding of these services and the critical role that they play within communities, and were keen to voice their support for a realistic program that enables services to continue the great work they do in their communities.
Investing in these services now will improve school attendance and turn around the lives of the next generation of Aboriginal and Torres Strait Islander children.
SNAICC is continuing work to raise awareness of these services and the need for long-term support. We hope to have a better understanding of the Australian Government position with the release of the Families Package proposal shortly.
Thank you to the services that travelled far and wide to raise their voices in Canberra.