Below are suggested stages in completing the audit and ideas for how to go about it.
Stage 1
Discuss and reflect on the principles that underpin your partnership
Before you begin the questionnaire, check-in about why you are partnering and what's important to you in the way you go about it. You may also want to check-in with your partnership vision statement if you already have one.
The framework represented in the diagram below provides the basis for the audit tool, drawing on the evidence of what is important for genuine partnerships in service delivery for Aboriginal and Torres Strait Islander children and families. The outer circle describes the four key domains that inform all the processes that take place in the inner-circle with the aim to achieve the core objective at the centre of the diagram.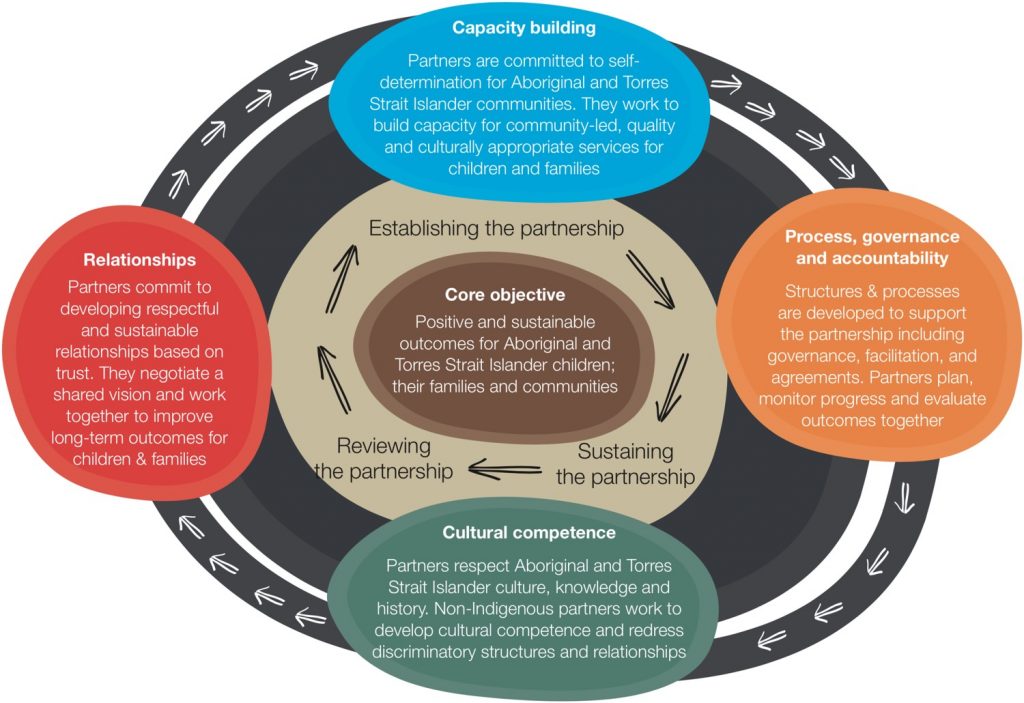 For discussion:
Does the framework reflect the way we want to work together?
If not, why not, and what are the differences to keep in mind as we move through the audit?
Stage 2
Map your partnership in the context of the community
Download and complete the partnership mapping exercise to reflect on where your partnership sits in the context of other relationships and stakeholders involved in supporting families. Reflect on how the partnership contributes to meeting child and family needs in the community.
Completing the mapping exercise is recommended but the results are not being collected as part of the online audit, so you can also carry on completing this tool if you're not able to do it right now.