4 June 2015 | General Interest
SNAICC continued a busy training schedule through May, delivering successful workshops in Mackay, Walgett, Dubbo, Brewarrina, Lightning Ridge, and Toowoomba.
From 4-5 May, SNAICC delivered a two-day Through Young Black Eyes (TYBE) train-the-trainer workshop in Mackay, Queensland, with the Queensland Centre for Domestic and Family Violence Research (CDFVR) hosting the workshop as a contribution to Domestic Violence Prevention Month.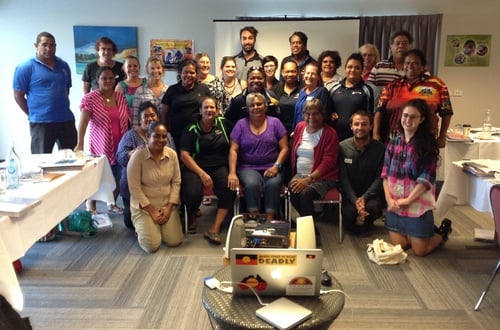 The TYBE workshops support local services by helping them learn about the effects of family violence, and how they can facilitate further workshops in their community using the TYBE workshop kit.
The providers in Mackay constituted Aboriginal and Torres Strait Islander attendees from around Queensland, including five scholarship places funded by Sidney Myer Fund. Thanks to this funding opportunity, workers from inland Queensland, the Cape, and Gulf areas were able to access this unique learning opportunity.
SNAICC Training Officers, Kate Booth and Nick Joseph, also facilitated two TYBE workshops in Walgett and Dubbo, New South Wales from 18-22 May – the first in a series of five workshops to be hosted by Mission Australia.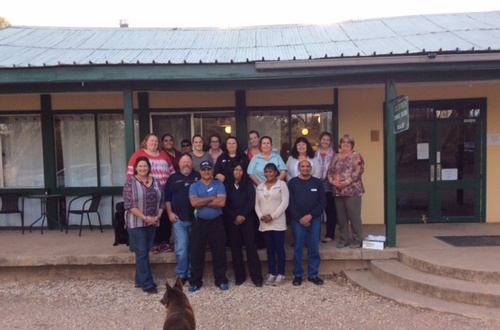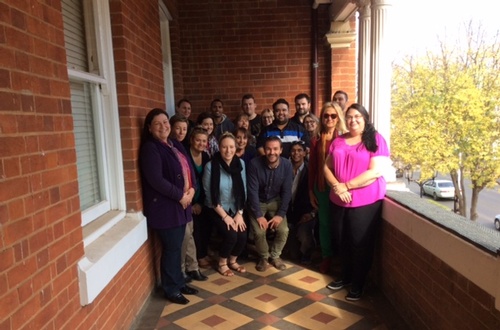 The Journey to Big School workshops continued in Brewarrina and Lightning Ridge from 11-15 May, with participants from local early years services, schools, and community coming together to discuss ways they can help children transition safely and successfully from early years services to school. SNAICC Senior Training Officer, Kate Booth, facilitated these workshops.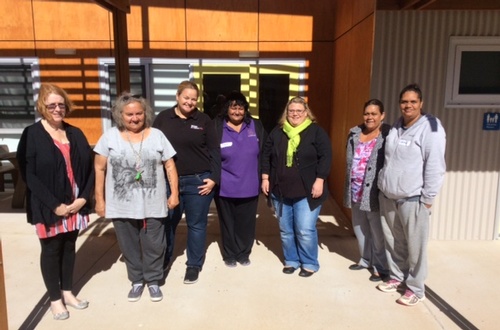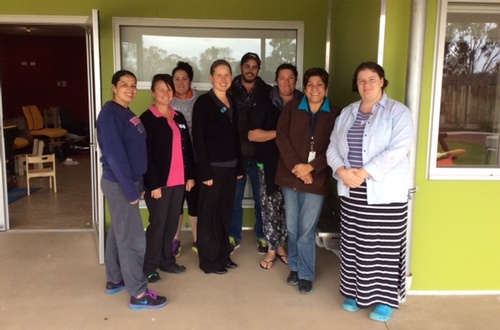 The final training for May was Opening Doors to Genuine Partnerships, co-facilitated with the Queensland Aboriginal & Torres Strait Islander Child Protection Peak (QATSICPP) in Toowoomba on 25-26 May. John Burton (SNAICC) and Michael Currie (QATSICPP) worked with Mercy Community Services, Carbal Medical Centre and Lifeline to help build effective and sustainable partnerships in service delivery for Aboriginal and Torres Strait Islander children and families. The workshop is based on SNAICC's Partnership Training Manual and Audit Tool.
While in Mackay the SNAICC training team were invited to present at the Queensland Indigenous Family Violence Prevention Forum on the 7-8 May. The event gave representatives from a range of domestic and family violence, health, police, and community services the opportunity to come together to share and learn more about domestic and family violence. SNAICC delivered two skilling circles across both days.
SNAICC Training Manager, David Ellis, and Policy Officer, Hannah Donnelly, presented on our resource Safe For Our Kids. The resource is a guide to family violence response and prevention for Aboriginal and Torres Strait Islander children and families.
SNAICC Training Officer, Nick Joseph, presented a skilling circle titled Healing approaches and trauma informed practice with Aboriginal and Torres Strait Islander people.
Both presentations received positive feedback, providing a platform to organise some follow up training. SNAICC was grateful to be a part of the forum – it was a great opportunity to form and maintain positive networks within the sector. Overall, it was a very informative couple of days.
June will see the training team deliver TYBE workshops in various Northern Territory locations and a Recognising and Responding to Trauma workshop in Lismore, New South Wales. Check out the SNAICC Training Calendar for upcoming workshops. If your organisation is interested in hosting a workshop, contact Alice at training@snaicc.org.au or on (03) 9489 8099.