Pre-Conference Workshops
Social Program
For a comprehensive summary of the program, download Conference Registration Booklet:
SNAICC Conference Program 2012 [PDF 2.9 MB]
SNAICC Conference 2013 program at a glance [PDF 70KB]
International Keynote Speakers
---
Marta Maurás Perez (Chile)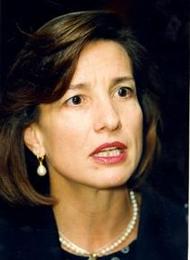 Marta is currently a member and Vice-president of the United Nations Committee on the Rights of the Child and Special Rapporteur for Australia (2009-2013), independent consultant in social policy, human rights and international relations. Maurás is Chilean, sociologist from the Catholic University of Chile, holds certificates on Public Administration from the University of Connecticut and in Ontological Coaching from the Newfield Institute.
For most of her professional life, Maurás has worked for the UN which she joined in 1974 and has served in different senior capacities and organizations both in field stations in Latin America, Asia and Africa, and in regional offices and Headquarters. From 1998 to 2005 she served in the Office of Secretary General of the United Nations Kofi Annan as Director for Economic and Social Affairs and Chef de Cabinet to the Deputy SG from where she moved to become the Secretary of the Commission at the Economic Commission for Latin America and the Caribbean (ECLAC) for 2005-2007. Previous to the UN Secretariat, Maurás was with UNICEF for 24 years where she served as UNICEF Regional Director for Latin America and the Caribbean (1992-1998), Chief of the Sub-Sahara Africa Section in Headquarters, New York (1988-1992), Representative in Mozambique and Swaziland (1984-1988), senior planning officer in Pakistan (1980-1984), and as regional adviser on women's affairs in Latin America and the Caribbean (1974-1980). After her retirement from the UN in 2007, Maurás was appointed as adviser Special Envoy of UNICEF for Latin America and the Caribbean till she was elected as independent expert to the UN Committee on Child Rights.
She is a member of the board of several national and international NGOs related to academic, social and political issues, and women and children´s rights. She speaks Spanish, English, French and Portuguese.

Cindy Blackstock (Canada)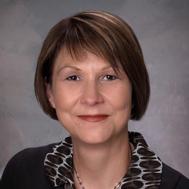 Cindy Blackstock is the Executive Director, The Caring Society of Canada and Associate Professor, University of Alberta. The Caring Society of Canada seeks to promote, and support, First Nations child and family service agencies in Canada by providing research, professional development and public education services.
A member of the Gitksan Nation, Cindy has worked in the field of child and family services for over 25 years. She has worked as a social worker for the provincial government as well as a First Nations child and family service agency and was executive director of a regional Indigenous professional development agency for Indigenous social workers in 1998 before assuming her current post at the Caring Society in 2003.
An author of over 50 publications on the welfare and rights of First Nations children, Cindy's key interests include exploring, and addressing, the causes of disadvantage for Aboriginal children and families by promoting equitable and culturally based interventions and the role of the voluntary sector in supporting community based responses. Cindy's current professional interests include holding fellowships with the Ashoka Foundation, J.W. McConnell Family Foundation and the Trudeau Foundation.
Associate Professor Cynthia (Cindy) Kiro (New Zealand)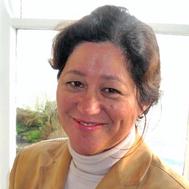 Associate Professor Cynthia (Cindy) Kiro is of Maori descent and the Head of the School of Public Health at Massey University, New Zealand. Cindy returned to Massey University following her term as the fourth and first female Children's Commissioner between 2003-2009, where she was the statutory advócate for children and young people. She has worked for over 20 years in a wide range of community organisations promoting Maori wellbeing and the wellbeing of children and young people. Cindy has a PhD in Policy and works in the areas of children's health and wellbeing, indigenous health, health systems and health policy.

Australian Keynote Speakers
---
Professor Judy Atkinson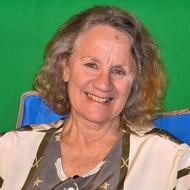 Emeritus Professor Judy Atkinson is a Jiman (central west Queensland) and Bundjalung (northern New South Wales) woman, with Anglo-Celtic and German heritage. Her academic contributions to the understanding of trauma related issues stemming from the violence of colonisation and the healing/recovery of Indigenous peoples from such trauma has won her the Carrick Neville Bonner Award in 2006 for her curriculum development and innovative teaching practice. In 2011 she was awarded the Fritz Redlick Memorial Award for Human Rights and Mental Health from the Harvard University program for refugee trauma.
Her book 'Trauma Trails – Recreating Songlines: The transgenerational effects of trauma in Indigenous Australia', provides context to the life stories of people who have been moved from their country in a process that has created trauma trails, and the changes that can occur in the lives of people as they make connection with each other and share their stories of healing.
She is a member of the Harvard Global Mental Health Scientific Research Alliance. She presently serves on the Australian Institute of Health and Welfare Scientific Advisory Committee on Closing the Gap research, and is on the Board of Directors of the Aboriginal and Torres Strait Islander Healing Foundation and sits on both the Education and Training Advisory Committee, and the Research Advisory Committee. She is the Patron of the We Al-li Trust.

Kathy Guthadjaka (Gotha)
My Teaching Life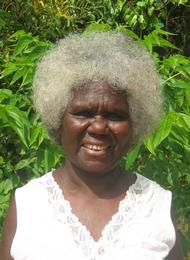 My friends call me Gotha. I have taught Yol?u children in the classroom for 40 years or so.
As a little girl I just wanted to be a teacher. I began my working career at the bottom rung of the ladder tending goats at the Elcho Island mission. I also worked as a house girl, cleaning dishes and scrubbing floors and then cleared stones for the church foundation before commencing work as a teaching assistant. I gained my teaching qualifications at Batchelor College and not long after that set my sights on pioneering a good education for my people in their own homeland.
Most of my life I've looked after children. Some were my own children, some my grandchildren and great-grandchildren. Others were other people's grandchildren and some were children with problems at school.
In 1991 my husband, Colin and I moved out from Galiwinku to establish a new Homeland Centre and school at Gäwa. At that time I was still teaching with the NT Department of Education at Shepherdson College, where I had put in some 30 years of teaching. I retired from the NT Teaching Service at the end of 2002.
In 2003, we made new arrangements for education at Gäwa by partnering with the Northern Territory Christian Schools Association and cutting ties with Shepherdson College. With the arrival of good, dedicated full-time teaching staff and the Gäwa Christian School, I have been able to focus my attention on preserving Warramiri language and history. Of course, my aim is always towards the benefit of our children through good education that fits them.
Today I am a recognised fellow in the Northern Institute at Charles Darwin University and have represented my people at many venues around the world…
Over the years I have kept and presented a clear vision to coming generations. Now I am watching for young people who have learned the vision and want to run with it. Helping these will probably be my final contribution to the future of my people.
Without vision the people are breaking up, but not all will break apart and drift away; some will stay to run with the vision.

April Long and Krista McMeeken
April and Krista are two young indigenous women that will share their experiences of promoting self-determination and the full realisation of Indigenous rights in Australia at both a grassroots and International level.
April Long is an Aboriginal woman from Narara on the New South Wales Central Coast. April has strong connections to the Gumbaynggir and Darkinjung nations on the Central Coast and Mid North Coast of NSW. April is passionate about ensuring the rights of Aboriginal and Torres Strait Islander people, particularly young people.
April recently participated in the 2011 NGO Delegation to the United Nations reporting on the Convention on the Rights of the Child and the overrepresentation of Indigenous juveniles in the criminal justice system. The overrepresentation of Indigenous Youth in the criminal justice system is an issue that April is particularly passionate about.
In 2012 April obtained a Bachelor of Law and a Bachelor of Arts. April is currently the National Project Manager of the National Indigenous Youth Leadership Academy (NIYLA).
Krista McMeeken, a Nyoongar woman, Krista is a human rights, youth and reconciliation advocate in her community of Perth. Having completed her Bachelor of Laws at the University of Western Australia she is now a Law Graduate at Corrs Chambers Westgarth in WA. Krista is also a full-time carer for her mother and a committee member for the W.A. Law Society's Aboriginal Lawyer's Committee and the National Indigenous Legal Conference 2012. In recognition of her commitment to community issues such as human rights and equal opportunities, Krista was also crowned Miss NAIDOC Perth in 2011, and was a finalist for Young Australian of the Year 2011.
Both April and Krista participated as members 2013 SNAICC Conference Expert Advisory Group.