24 June 2015 | General Interest
 The Care for Kids' Ears campaign has been developed to increase awareness of ear disease and hearing loss in Aboriginal and Torres Strait Islander communities.
The Care for Kids' Ears campaign has produced a large variety of materials, developed to cater to specific sections across the community – from parents and carers, early childhood groups, and teachers to health professionals.
Otitis Media (known colloquially as ear disease or middle ear infection) is relatively common amongst children in general, however the prevalence, recurrence, and degree of infection recorded in Aboriginal and Torres Strait Islander people is significantly higher than in non-Indigenous people.
Recent studies have found that children in many Aboriginal and Torres Strait Islander communities suffer from chronic ear disease (in particular otitis media) at rates that well exceed the 4 per cent threshold at which a disease is regarded as a major public health problem.
Alongside the impacts on health, ear disease – particularly where it leads to hearing loss – is a large contributor to poor educational achievement and higher unemployment and, as a consequence, greater contact with the criminal justice system later in life.
Corey Gretch is an Aboriginal Education Assistant from the Central Coast, in New South Wales, and has first-hand experience working with Aboriginal and Torres Strait Islander students who have been impacted by poor ear health.
"We've got kids up in our primary school, if they're sitting anywhere near the back of the class and we're having behavioural issues with them, sometimes it can come down to the fact that they're not hearing what's going on. I've seen it happen, and I've seen those kids get chastised by their teachers because they're not doing the work," said Mr Gretch.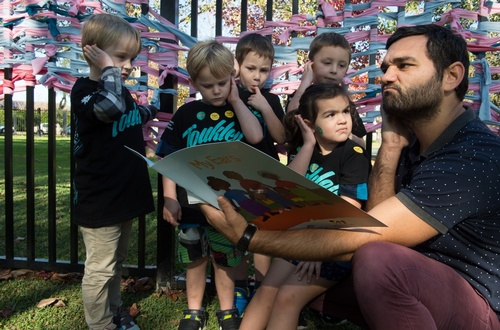 "I believe not just in the importance of physical heath, but also the importance of mental health, and if you can't hear somebody when you're trying to learn that is going to mess with your mental health. You're going to be a frustrated person, and that's no place for learning."
Indigenous ENT specialist Dr Kelvin Kong has vast experience treating ear disease in Aboriginal and Torres Strait Islander communities. Dr Kong believes greater focus must be placed on, what he describes as, the travesty of ear disease.
"Ear disease is a chronic process that occurs over the most important period of a child's upbringing that is during their learning, growth and development. If we don't get onto it and we don't be persistent with it, kids are going to miss out on their education. If they miss out on their education it changes their whole life outcomes," says Dr Kong.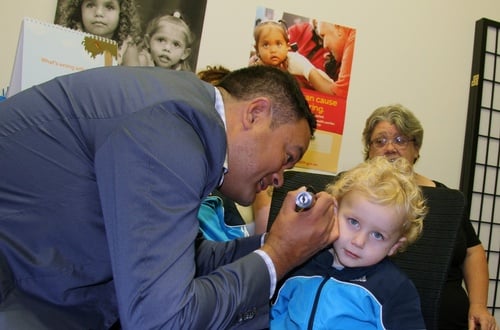 Families, teachers, health workers, and those working in early childhood are encouraged to access the Care for Kids' Ears resources and utilise them to educate and empower the community on this important health issue.
Campaign information and resources – including a talking book – are available at the Care for Kids' Ears website.