21 October 2015 | General Interest
The National Aboriginal and Torres Strait Islander Education Conference (NATSIEC) will bring together a network of educators from Aboriginal and Torres Strait Islander communities across Australia to celebrate identity, culture and learning.
Hosted by the Victorian Aboriginal Education Association Incorporated (VAEAI) on the land of the Kulin Nations, the conference will be held in Melbourne from 10-13 November.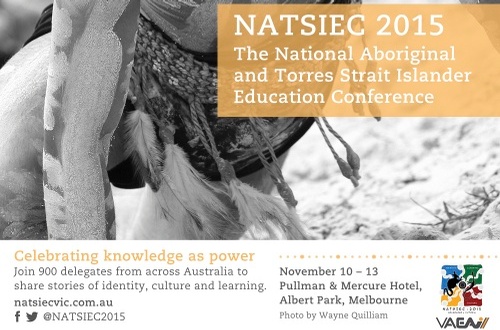 VAEAI's belief in holistic approaches to education is reflected through a diverse program, spanning early childhood through to higher education, innovative online approaches to learning and alternative models, with topics covering education in health, economics, arts and new media.
Keynote addresses from community members include Lois Peeler, who led the development of the first-ever independent Aboriginal secondary school in the early 1980s; Esme Bamblett, CEO of the Aborigines Advancement League, one of the first Aboriginal community controlled organisations in the country; and Benson Saulo, the first Aboriginal person to be appointed the Australian Youth Representative to the United Nations. Panel conversations will examine the historical significance of the Aboriginal Education Policy developed 26 years ago, and look to future directions in Aboriginal learning and youth participation.
There will be a huge range of interactive sessions and presentations by organisations such as the Stronger Smarter Institute, LIME (Leaders in Indigenous Medical Education), and the First Nations Foundation, who will present on empowerment through financial literacy.
NATSIEC 2015 will have an emphasis on cultural learning, with renowned artist Vicki Couzens creating a possum skin cloak on site, while delegates will also be able to choose from eight cultural programs including cultural tours of Bunjilaka at the Melbourne Museum, the new Koorie Heritage Trust at Federation Square, the Botanical Gardens or a visit to the MCG to hear about Aboriginal contributions to football and the history of Marngrook.
The Opening Ceremony includes performances by Lou Bennett, an advocate for the revitalization of Aboriginal language through song, and legendary singer Archie Roach. The Gala Dinner will be a night to remember with a special performance by Dan Sultan.