We are excited to reveal that our brand-new website has gone live in preparation for this year's National Aboriginal and Torres Strait Islander Children's Day on 4 August.
Developed by SNAICC – National Voice for Our Children in partnership with Aboriginal digital agency Ngakkan Nyaagu, the online portal provides children, families and early childhood educators with resources, activities and ideas to help you learn about and celebrate Children's Day.
Embrace Children's Day 2020 and find innovative ways to mark this special day, whether at your early years service, school or with your family at home.
The new Children's Day site features:
Children's Day is a chance for everyone to celebrate Aboriginal and Torres Strait Islander culture and traditions, and the importance of children in their early years growing up strong in culture and identity.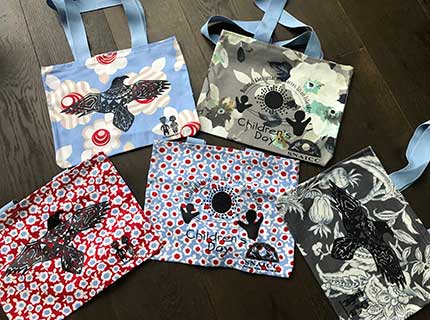 Order Children's Day bags
You can now order Children's Day 2020 bags to help you celebrate National Aboriginal and Torres Strait Islander Children's Day on 4 August!
The reusable bags made from fun and colourful fabrics contain a range of goodies for children to enjoy, including cardboard animals, Indigenous seeds, an activity sheet, crayons and a book donated by the Indigenous Literacy Foundation.
So that your bags arrive to you before Children's Day on 4 August, please complete your order by Friday 17 July.
Order a Children's Day 2020 poster
Our Children's Day 2020 poster is now available!
Please order a printed poster through our website, or if you order a bag or register an event, we will automatically send you 1-2 posters. If you would like us to send you more than 1-2 posters, please use the order form on our website.
Thank you to everyone who ordered a poster through our old website. Unfortunately, due to technical issues, we were not able to record the contact details and we can't send you a poster. We are very sorry! If this is you, please sign up again on our new order form.
Posters online
You can also download digital versions in different sizes from our website, including an option with a space to add your organisation and event details.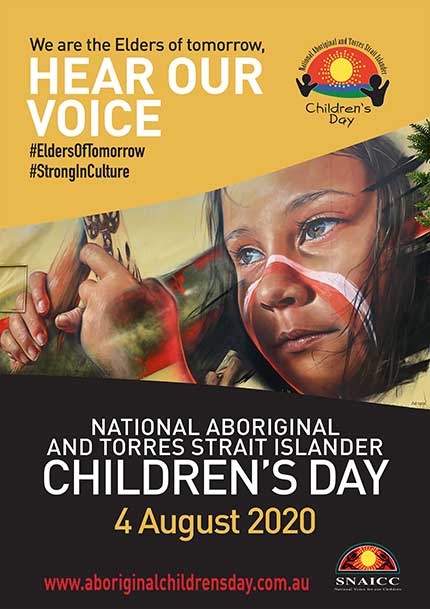 Organising an event for your mob?
It is fantastic to hear from schools and early years services across Australia about their plans for Children's Day 2020. Please complete this form to let us know how you will be celebrating this year. Keep an eye on the website as we publish events celebrated across Australia!
We would also love for you to send us photos taken during your Children's Day celebration which we can then showcase online. Please email images to us at media@snaicc.org.au along with a signed media consent form. Thank you!
Children's Day 2020 promotional video
We will shortly be launching our promotional video, plus more online video content to help promote Children's Day 2020.
A huge thank you to everyone who sent in their video clips of children saying this year's theme: We are the Elders of tomorrow, hear our voice. Due to such an amazing response, we were not able to include everyone in the final television community service announcement (CSA), but we will be promoting all of the videos in the lead up to 4 August.
Keep an eye out for this content to be featured online over the next few weeks!